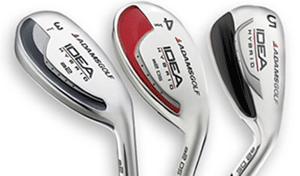 Adams IDEA a2/a2OS Hybrid'>

Adams IDEA a2/a2OS Hybrid
It seems we're not the only one's who have been suitably impressed by
Adams's
IDEA clubs. Since reviewing the
Adam's IDEA a2 combo irons in June
, the IDEA Pro hybrid, the professional version has been gaining increasing popularity and success on the US Tour.
Last month, South Africa's Trevor Immelman won the Cialia Western Open playing with one, as did two other top 10 finishers. Of the success, Tim Reed, Vice President of Research and Development commented,
"Playing a part in a victory at the historic Western Open is something we are very proud of. Our hybrids are not only best-sellers among retailers – now they are also showing up in the bags of the elite on the professional Tours."
In particular the Seniors Tour, where no less than 56 Adams hybrids were used in the US Senior Open by such names as Tom Watson and Des Smyth. "Proof that our products are trusted by golf's very best," said Reed.
For the average golfer the extra distance generated the Adams hybrid is undoubtedly the biggest attraction. The technical explanation is an increase in contact efficiency.
Research has shown golfers do not hit all their clubs with the same level of efficiency. The hybrid technology which, from experience is far easier to hit than long shafted 2- and 3- irons, increases this efficiency while providing the low centre of gravity and thin face which enables a wood to hit the ball further than a long-iron.
If you're an owner of any Adams Golf equipment then why not tell us about in by submitting a user review
For more information on Adams Golf click here