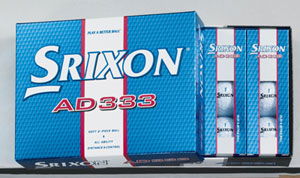 New packaging of the new Srixon AD333 ball -available soon
  SRIXON Golf is introducing a new version of its best-selling two-piece AD333 ball, which the Alton-based company believes will fly higher, further and with more control in all wind conditions .
Sports Marketing Surveys official Retail Audits identified the Srixon AD 333 ball as the leading brand among 2-piece balls in the UK last year, making Srixon even more determined to retain its status by featuring a larger core, thinner cover and improved dynamics in the new model.
The company claims the enlarged core of the new Srixon AD 333 ball has been achieved by creating the thinner cover and this generates greater ball speed, high launch and low spin for improved carry and roll. The combination of six different-sized dimples among the 333 overall total, also produces a more penetrating ball flight in all wind conditions, with a shallow landing angle. In turn the soft cover provides improved feel and control, says Srixon.
The new AD333 is available shortly with a suggested retail price of £25.99 per dozen.