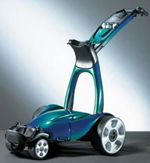 The stylish X3R trolley
The quickest way to cut more than three strokes from your handicap is to use a remote-controlled electric trolley, according to a survey by Stewart Golf, makers of the innovative XR3.
A control system, derived by NASA makes the machine easy to manoeuvre, say the manufacturers, enabling the golfer to concentrate and focus on their game and Stewart Golfer customers in a survey revealed that as a result their handicap had tumbled.
Over 60 per-cent highlighted that game had improved since using a Stewart Golf trolley, with 75% of customers, who previously carried their golf clubs, claiming an average of a 3.6 stroke improvement. Average handicap of customers was 13.6.
In a addition a third of customers claimed that they are were able to complete more holes of golf since the trolley trolley and over 30% said their overall fitness level had improved.  
  Stewart Golf also consulted the Tim Hutchful of the British Chiropractic Association who commented: "A healthy back will improve your swing. Simple factors such as dehydration should also be considered as this also causes early fatigue and a lack of concentration, leading the golfer to compensate by adjusting the swing and increasing the risk of injury."
Stewart Golf MD, Mark Stewart said: "Golfers often focus on trying to achieve that extra five or 10 yards on their tee shots but rarely think of how fresh they are when walking down the 18th. Using a remote controlled trolley takes all the strain of carrying, pulling or pushing a golf bag, and the remote actually adds to the enjoyment of the round. Our customers are also walking with an excellent posture and thinking only about the next shot."