It's coming upto 13 years since Scott Hoch missed THAT putt on the 10th green at Augusta and left the door open for Nick Faldo to win his first US Masters green jacket.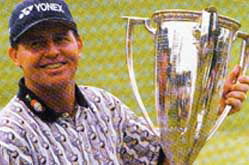 Scott Hoch - 'golf's a job to me.'
And it still rankles with the sometimes abrasive American.
His miss coined the phrase 'Hoch the choke' and even at 45 years old, Hoch has never been allowed to forget it.
Talking to Golf Digest this week he recalled: "If I had made that putt in 1989 to win the playoff, it would have changed a lot. I think about what might have been. Everybody says the putt was 18 inches or two feet, but it was more like 30 inches.
"I knew the Masters was mine if I made it - and I missed it. I could probably make 90 to 95 out of 100 of those, but not that one on No. 10. Lined it up to the left, I think.
"It was the hardest time I've ever had, as far as golf, anyway. We had to drive to Hilton Head that night with my wife Sally and our small kids. It was raining. I couldn't get to sleep when I got there, and the other players turned the other way when they saw me. They didn't know what to say."
However, he remembers Faldo talking to him about the incident.
"He said he hadn't got any rest and had had a tough night. I thought 'you think you've had a hard night?'"
From personal experience, I can confirm that Hoch never ducks an issue. And as his Ryder Cup captain Curtis Strange has said 'If you don't want the truth, don't ask Scott Hoch a question.'
I caught up with him in the locker room at Augusta in 1991 and asked if he would be playing The Open that year after being somewhat sadistically paired with Faldo in the opening two rounds at St Andrews the previous year.
"No I won't,' he told me, looking me straight in the eye, "but not because of the Faldo thing. I can handle that. It's just that links golf doesn't suit my game. What's the point of going over when the courses they play just don't suit me?"
But he will be at The Belfry in September even though he feels the Ryder Cup has become something it wasn't intended to be.
"The media and fans have taken respect and sportsmanship out of it. That's why I prefer playing the Presidents Cup, which is just about golf," says Hoch who started the season as the fifth all-time money winner on the US Tour, after winning two tournaments in 2001.
Hoch told Golf Digest he used to love playing the game. Not any more.
" It's a job and if you took a survey of all the other guys on Tour, I play less pleasure golf than anybody. Free time for me is a front row seat watching the Orlando Magic basketball team – they're very accomplished. I'm on remote control and with the family. And the older I get, the more I cry at movies."
So why does he keep going?
"To prove myself to me. I should have won one or two majors. It's probably not going to happen now, but I don't think my skills have diminished. If Tiger Woods is a 10, my career is an 8 or 8 ½. To the media and public, I'm probably more like a 5 or 6.
But he says he has no regrets over his reputation.
"Sure, it's cost me money and more. People tell me they would like to say what I say, but don't and one thing I never do is criticise other players.
"But our son, Cameron, is healthy. When he was aged two, we thought he had bone cancer. The rest doesn't really matter, does it?"
What you see is what you get with Scott Hoch – an honest man with honest opinions and the game of golf is much better for him being around.