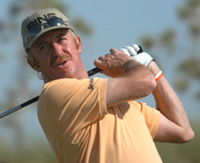 Miguel Angel Jimenez - hotly tipped
For the first time since he turned professional in the autumn of 1996, Tiger Woods will not be present at a Major championship. The 14-time Major winner is currently recovering from a number of injuries, and will not play competitively again this year.
Not only did the world No 1 undergo surgery on a serious knee problem, he must also recover from a stress fracture in his tibia.
Although his absence means that opportunity knocks for the rest of the field, Woods will be sorely missed on the Lancashire dunes.
Only once in the last eight Majors has Woods finished lower than second, while his recent painful US Open victory at Torrey Pines will go down as one of the greatest performances of all time.
As for those teeing-up at Royal Birkdale this week, here are their results for the last eight Majors, where Miguel Angel Jimenez' record is as good as anyone:
| | | | | | | | | |
| --- | --- | --- | --- | --- | --- | --- | --- | --- |
| Player | 1 | 2 | 3 | 4 | 5 | 6 | 7 | 8 |
| Aiken Thomas | MC | - | - | - | - | - | - | - |
| Allenby Robert | 16 | 20 | MC | MC | MC | MC | 42 | 18 |
| Ames Stephen | 41 | 55 | 24 | 10 | MC | 12 | 25 | 58 |
| Appleby Stuart | MC | 55 | 7 | 26 | MC | 12 | 14 | 36 |
| Appleyard Peter | - | - | - | - | - | - | - | - |
| Archer Phillip | - | - | - | - | - | - | - | MC |
| Austin Woody | - | 16 | - | MC | - | 2 | MC | 71 |
| Baddeley Aaron | MC | 55 | 52 | 13 | MC | MC | MC | 29 |
| Baker Peter | - | - | - | - | MC | - | - | - |
| Barlow Craig | - | MC | - | - | - | - | - | MC |
| Beem Rich | MC | 49 | 54 | MC | 20 | MC | - | 78 |
| Bevan Jon | MC | - | - | - | 63 | - | - | - |
| Blizard Rohan | - | - | - | - | - | - | - | - |
| Blyth Adam | - | - | - | - | - | - | - | - |
| Bourdy Gregory | - | - | - | - | 53 | - | - | - |
| Boyd Gary | - | - | - | - | - | - | - | - |
| Brown Mark | - | MC | - | - | - | - | - | - |
| Bryant Bart | 70 | MC | MC | - | - | 32 | - | 29 |
| Cabrera Angel | 7 | MC | 37 | Won | 34 | MC | 25 | MC |
| Calcavecchia Mark | 41 | Wd | 20 | - | 23 | MC | MC | Wd |
| Campbell Michael | 35 | MC | MC | 58 | 57 | MC | MC | MC |
| Canete Ariel | - | - | - | - | - | - | - | - |
| Casey Paul | 71 | MC | 10 | 10 | 27 | 40 | 11 | 65 |
| Cejka Alex | - | - | - | - | - | - | - | - |
| Chia Danny | - | - | - | - | - | - | - | - |
| Choi KJ | MC | 7 | 27 | MC | 8 | 12 | 41 | MC |
| Cink Stewart | MC | 24 | 17 | MC | 6 | 32 | 3 | 14 |
| Clark Tim | 56 | 24 | 13 | 17 | - | MC | MC | 48 |
| Cunliffe Joshua | - | - | - | - | - | - | - | - |
| Curtis Ben | MC | 60 | MC | 45 | 8 | MC | MC | MC |
| Daly John | MC | MC | - | - | MC | 32 | - | - |
| Dougherty Nick | MC | MC | - | 7 | 42 | MC | 33 | MC |
| Duval David | 56 | MC | - | - | - | - | - | - |
| Dyson Simon | 48 | - | - | - | - | 6 | - | - |
| Edberg Pelle | - | - | - | - | 12 | - | - | - |
| Edfors Johan | MC | MC | MC | MC | MC | MC | - | MC |
| Els Ernie | 3 | 16 | MC | 51 | 4 | 3 | MC | 14 |
| Elson Jamie | - | - | - | - | - | - | - | - |
| Fasth Niclas | MC | MC | 55 | 4 | 35 | 42 | 39 | MC |
| Fichardt Darren | - | - | - | MC | - | - | - | - |
| Finch Richard | - | - | - | - | - | - | - | - |
| Fisher Ross | - | - | - | - | MC | - | - | MC |
| Fowler Peter | - | - | - | - | MC | - | - | - |
| Frost David | - | - | - | - | MC | - | - | - |
| Furyk Jim | 4 | 29 | 13 | 2 | 12 | MC | 33 | 36 |
| Garcia Sergio | 5 | 3 | MC | MC | 2 | Dq | MC | 18 |
| Gillis Tom | - | - | - | MC | - | - | - | - |
| Glover Lucas | MC | 46 | 20 | MC | 27 | 50 | - | - |
| Gonnet Jean-Baptiste | - | - | - | - | - | - | - | - |
| Goosen Retief | 14 | 34 | 2 | MC | 23 | 23 | 17 | 14 |
| Goydos Paul | - | - | MC | MC | - | MC | - | - |
| Green Richard | MC | 37 | - | - | 4 | 40 | MC | - |
| Hamilton Todd | 68 | MC | MC | MC | MC | 66 | 36 | 36 |
| Hansen Anders | - | 24 | - | 55 | 57 | 12 | MC | - |
| Hansen Soren | - | - | - | - | - | MC | MC | 53 |
| Hanson Peter | - | - | - | 30 | 69 | 23 | - | - |
| Harrington Padraig | MC | MC | 7 | MC | Won | 42 | 5 | 36 |
| Havret Gregory | - | - | - | - | MC | MC | - | - |
| Hebert Ben | - | - | - | - | - | - | - | - |
| Holmes John B | MC | 37 | - | - | - | - | 25 | MC |
| Horsey Dave | - | - | - | - | - | - | - | - |
| Howarth Jamie | - | - | - | - | - | - | - | - |
| Howell David | MC | 67 | 44 | - | 53 | MC | - | - |
| Howell III Charles | - | MC | 30 | 51 | MC | 42 | MC | MC |
| Hume Barry | - | - | - | - | - | - | - | - |
| Imada Ryuji | - | - | - | MC | - | MC | - | 18 |
| Immelman Trevor | - | 34 | 55 | MC | 60 | 6 | Won | 65 |
| Iwata Hiroshi | - | - | - | - | - | - | - | - |
| Jacobson Fredrik | - | - | - | - | - | - | - | MC |
| Jimenez Miguel Angel | 41 | 65 | 44 | - | 12 | MC | 8 | 6 |
| Johnson Zach | MC | MC | Won | 45 | 20 | MC | 20 | MC |
| Jones Brendan | - | - | - | - | - | - | - | - |
| Kai Shintaro | - | - | - | - | - | - | - | - |
| Karlsson Robert | 35 | 29 | 30 | MC | MC | 57 | 8 | 4 |
| Kaymer Martin | - | - | - | - | - | - | MC | 53 |
| Kelly Jerry | 26 | 48 | 5 | 7 | 49 | MC | MC | MC |
| Khan Simon | 31 | MC | - | - | - | - | - | - |
| Kim Anthony | - | - | - | 20 | - | 50 | - | 26 |
| Kingston James | - | - | - | - | - | - | - | - |
| Kjeldsen Soren | 41 | - | - | MC | - | - | - | - |
| Kuchar Matt | - | - | - | - | MC | - | - | 48 |
| Labelle Doug | - | - | - | - | - | - | - | - |
| Lam Chih Bing | - | - | - | - | MC | - | - | - |
| Lamb Brad | - | - | - | - | - | - | - | - |
| Larrazabal Pablo | - | - | - | - | - | - | - | - |
| Lawrie Paul | MC | - | - | - | MC | - | - | - |
| Lehman Tom | MC | MC | - | - | 51 | 69 | - | - |
| Leonard Justin | - | MC | - | MC | MC | MC | 20 | 36 |
| Letzig Michael | - | - | - | - | - | - | - | MC |
| Liang Wen-Chong | - | - | - | - | - | MC | MC | - |
| Lima Jose-Filipe | - | - | - | - | MC | - | - | - |
| Lomas Jonathan | - | - | - | - | - | - | - | - |
| Lonard Peter | 16 | MC | - | - | - | - | MC | - |
| Love Davis | MC | 34 | 27 | MC | MC | MC | - | 53 |
| Lyle Sandy | MC | - | 43 | - | 65 | - | 45 | - |
| Mahan Hunter | 26 | - | - | 13 | 6 | 18 | MC | 18 |
| Marksaeng Prayad | - | - | - | - | - | - | Wd | - |
| Matsumura Michio | - | - | - | - | - | - | - | - |
| McCarron Scott | - | - | - | - | - | - | - | - |
| McDowell Graeme | 61 | 37 | - | 30 | MC | - | - | - |
| McGrane Damian | - | - | - | - | - | - | - | - |
| McGuigan Doug | - | - | - | - | MC | - | - | - |
| Mediate Rocco | - | - | - | - | - | Wd | - | 2 |
| Mickelson Phil | 22 | 16 | 24 | MC | MC | 32 | 5 | 18 |
| Montgomerie Colin | MC | MC | MC | MC | MC | 42 | - | MC |
| Noren Alexander | - | - | - | - | - | - | - | - |
| Norman Greg | - | - | - | - | - | - | - | - |
| O`Hair Sean | 14 | 12 | - | MC | 67 | 42 | 14 | - |
| O`Hern Nick | MC | MC | MC | 23 | MC | 50 | MC | - |
| O`Meara Mark | 63 | - | MC | - | 60 | - | MC | MC |
| Ogilvy Geoff | 16 | 9 | 24 | 42 | MC | 6 | 39 | 9 |
| Otto Hennie | - | - | - | - | - | - | - | - |
| Overton Jeff | - | - | - | - | - | - | - | - |
| Pampling Rod | 35 | MC | 37 | MC | 27 | 42 | - | 14 |
| Parry Craig | - | - | - | - | - | - | - | MC |
| Perez Pat | - | MC | - | MC | 20 | 18 | - | 36 |
| Petrovic Tim | - | - | - | MC | - | - | - | - |
| Porter Ewan | - | - | - | - | MC | - | - | - |
| Poulter Ian | MC | 9 | 13 | 36 | 27 | 23 | 25 | Wd |
| Que Angelo | - | - | - | - | - | - | - | - |
| Quinney Jeff | - | - | - | - | - | MC | - | 29 |
| Rollins John | - | MC | 20 | 42 | MC | MC | MC | 48 |
| Romero Andres | 8 | MC | - | - | 3 | MC | 8 | 36 |
| Rose Justin | - | 41 | 5 | 10 | 12 | 12 | 36 | MC |
| Sabbatini Rory | 26 | MC | 2 | 51 | MC | MC | MC | 58 |
| Saxton Reinier | - | - | - | - | - | - | - | - |
| Scott Adam | 8 | 3 | 27 | MC | 27 | 12 | 25 | 26 |
| Sherreard Thomas | - | - | - | - | - | - | - | - |
| Singh Vijay | MC | MC | 13 | 20 | 27 | MC | 14 | 65 |
| Slocum Heath | - | 29 | - | - | - | 23 | 33 | 9 |
| Smail David | MC | - | - | - | - | - | - | - |
| Snedeker Brandt | - | - | - | 23 | - | 18 | 3 | 9 |
| Stadler Kevin | - | - | - | - | 51 | - | - | - |
| Stenson Henrik | 48 | 14 | 17 | MC | MC | MC | 17 | MC |
| Sterne Richard | MC | - | - | - | MC | Wd | 25 | MC |
| Storm Graeme | - | - | - | - | MC | 62 | - | - |
| Strange Scott | - | - | - | - | - | - | - | - |
| Stricker Steve | - | 7 | MC | 13 | 8 | 23 | MC | 29 |
| Tampion Andrew | - | - | - | - | - | - | - | - |
| Taniguchi Toru | - | - | - | MC | 60 | MC | MC | MC |
| Tanihara Hideto | 5 | 55 | MC | - | MC | - | - | - |
| Tsukada Yoshinobu | - | - | - | - | - | - | - | - |
| Van de Velde Jean | - | - | - | - | - | - | - | - |
| Verplank Scott | 31 | MC | 30 | 7 | 57 | 9 | MC | 29 |
| Villegas Camilo | - | MC | MC | 26 | - | 23 | MC | 9 |
| Wakefield Simon | 48 | - | - | - | - | - | - | - |
| Wall Anthony | 11 | MC | - | MC | MC | Wd | - | - |
| Walton Philip | - | - | - | - | - | - | - | - |
| Waring Paul | - | - | - | - | MC | - | - | - |
| Watson Tom | 48 | - | MC | - | - | - | MC | - |
| Webster Steve | - | - | - | - | - | - | - | - |
| Weekley Boo | - | - | - | 26 | 35 | 9 | 20 | 26 |
| Weir Mike | 56 | 6 | 20 | 20 | 8 | MC | 17 | 18 |
| Westwood Lee | 31 | 29 | 30 | 36 | 35 | 32 | 11 | 3 |
| Wiegele Martin | - | - | - | - | - | - | - | - |
| Wilson Oliver | - | - | - | - | MC | - | - | 36 |
| Wood Chris | - | - | - | - | - | - | - | - |
| Yano Azuma | - | - | - | - | - | - | - | - |
| - | - | - | - | - | - | - | - | - |
| Key: | - | - | - | - | - | - | - | - |
| 1: `06 Open | - | - | - | - | - | - | - | - |
| 2: `06 PGA | - | - | - | - | - | - | - | - |
| 3: `07 Masters | - | - | - | - | - | - | - | - |
| 4: `07 US Open | - | - | - | - | - | - | - | - |
| 5: `07 Open | - | - | - | - | - | - | - | - |
| 6: `07 PGA | - | - | - | - | - | - | - | - |
| 7: `08 Masters | - | - | - | - | - | - | - | - |
| 8: `08 US Open | - | - | - | - | - | - | - | - |