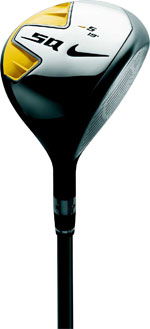 Nike 5-wood
The 2008 season has already prompted plenty of equipment trivia as the top Tour players emerge with new gear and new sponsors. In his latest monthly column, Dominic Pedler looks at the gear hitting the headlines.
Tiger Woods' notoriously conservative approach to equipment usually ensures that even his wins are 'slow news days' for the gearheads who follow the techie developments on Tour. Having won his last six tournaments (and over half of his last 30), those trusty Nike blades and Scotty Cameron Newport 2 putter (which has succumbed to only a single 3-putt in the last 257 holes) are very much in favour.
Nevertheless, Tiger has recently been debuting his new Nike 5-wood which he refers to affectionately as "my senior club".
"I hit it a little bit further. It's a little bit better out of the rough. I can get underneath the ball and hit it a little bit higher," said Woods at the Buick Invitational, referring to the thinner face and shallower profile of the 19-degree SasQuatch SUMO II fitted with a Diamana 103X shaft.
Meanwhile, having mysteriously cracked his main Nike SQ Tour driver during practice at the Dubai Desert Classic - only to find that the replacement "span too much" - Tiger may well switch sooner than expected to the new SQ Sumo 5000, which he's also been testing.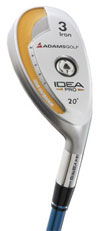 Idea Pro hybrid




Callaway bounce
Callaway bounced back from Ernie Els' demise down the stretch at The Emirates, as Phil Mickelson finally came good at Riviera, taking the Northern Trust Open with his wafer-thin prototype blades that still await their formal commercial launch. Just 12 months ago Big Phil threw it away in LA when (rather ironically) he found the rough at the final hole with his Callaway FT-5 driver just as his TV commercials praising the accuracy of the square FT-i were airing on Setanta.

No slip-ups this time though, as he launched the same FT-5 to within a wedge of the green at Riviera's tough closing hole.

Cobra strikes
It made up for being pipped at the FBR Open by the even bigger-hitting J B Holmes, who gave Cobra an early season boost when firing a monster 359 yards drive with his 7.5-degree King Cobra 454 Comp at the pivotal playoff hole. Holmes then nearly landed Cobra the ultimate coup when 3 up with 5 to play against Tiger at the Accenture World Matchplay before being dramatically overhauled.

Adams Golf were also in with a shout in Arizona when, after a majestic 259-yard approach to the 19th with his new 3-wood, new recruit Aaron Baddeley stood over a putt of 11 feet 9 inches to take out the Tiger. He missed and, like the rest that week, was history.

Adams Golf is enjoying some impressive early season form with Baddeley's new stablemate, Rory Sabbatini, tying for third at the Buick. Meanwhile a host of players are flocking to the manufacturer's excellent Idea Pro hybrids, including Jim Furyk, Woody Austin, John Daly, Charles Howell III and Daniel Chopra.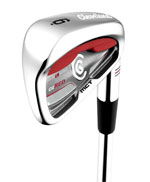 Cleveland CG Red 4-iron
Chopra's big Idea
One the best shots seen so far in 2008 was Chopra's 230-yard approach from the semi-rough with his Idea Pro (fitted with the popular UST-iRod shaft) to take the Mercedes-Benz Championship at Kapalua at the 4th extra hole.
My vote, though, goes to Steve Lowery's extraordinary shot (played with a Cleveland CG Red 4-iron fitted a Rifle 6.5 shaft) from the bunker at the 9th at Pebble Beach, on the final day of the AT & T tournament. It set up a sublime birdie which had Faldo swooning on Setanta.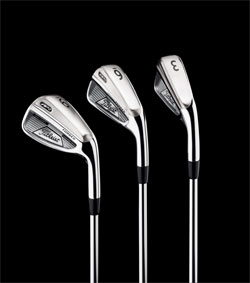 Titleist AP2 irons




Round of the year (so far) is surely Adam Scott's closing 61 which obliterated the field at the Qatar Masters, with a string of deadly approach shots courtesy of a set of Titleist's new AP2 irons which he'd only had in the bag for two tournaments.

Spider has wings
As far as putters are concerned, the talk has all been of the TaylorMade Rossa Monza Spider, an ultra-high MOI design with moveable weight cartridges housed in its protruding 'wings'.

The whacky construction is due for commercial launch later this month having already intrigued over a dozen Tour pros, including JB Holmes who won with it in Phoenix, and Sergio Garcia who even ditched his 3-iron to make room in his bag for both a short and a belly version at the Accenture matchplay in his eternal quest for a putting panacea.

Elsewhere, the cult SeeMore putters are enjoying a boost as we approach the anniversary of Zach Johnson's 2007 Masters win with the brand's distinctive Riflescope alignment technology that encourages a perfectly square set-up at address.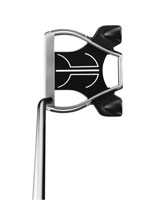 Rossa Spider
Monty's putting woes
Along with Mikko Ilonen, Raphael Jacquelin is the latest convert, contending down the stretch at the Indian Masters last month with a SeeMore (which, for what it's worth, has transformed my own modest game!).
But what will solve Colin Montgomerie's putting woes as he gears up for Ryder Cup qualifying points? With Monty having flitted between several flat-sticks last season (including a Yonex Cyberstar, a Rife 2-Bar mallet, a SeeMore and assorted Odysseys) I asked him, as he headed for the Accenture, if he'd finally settled on one.
"I don't think I'll ever settle on a putter!" he replied, laughing. Spoken like a true golf equipment junkie.

Dominic will be back with more equipment news soon.
Comments
Loading Comments...