'Europe at The Masters' – by Steve Rider

Contact:
www.suttonpublishing.co.uk
Technology:
Detailed review of European influence in the US Masters, from the original course concept through a succession of profesional champions seen through the eyes of the BBC's front man, since 1983.A total of 194-pages in hardback, with top quality photography.
Price:
£18.99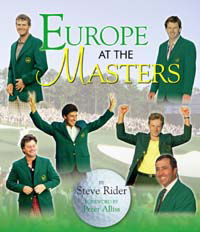 'Europe at The Masters' –by Steve Rider
With Nick Faldo, Seve Ballesteros and Ian Woosnam, among others, posing in their green jackets triumphantly on a misty backdrop of Augusta National, you'd be forgiven for believing Steve Rider's 'Europe at The Masters' merely raked over the already well-documented footprints of our legendary champions.
But as we are constantly told, you should never judge a book by its cover or – perhaps more appropriately – its green jacket. Steve and his research team have uncovered some real gems for the US Masters connoisseur, among whom I'd like to count myself.
I've attended five majors at the exclusive Georgia course and each time have bumped into Steve, either at the baggage carousel in Atlanta airport or around the course between broadcasts, where he's always cool under pressure, charming and chatty and a real student of the game and its history.
In his book, which includes some fabulous illustrations from the camera lenses of Getty Images, Empics and the late Phil Sheldon's picture library, I was particularly fascinated to learn of the role that one particular European played in establishing the course which is the only permanent home of a major championship.
Alister Mackenzie (it's still unclear as to whether he was born in Yorkshire or Birmingham, though he proclaimed himself Scottish) was living in California, designing courses when he met Bobby Jones the day he was knocked out of the first round of the 1929 US Amateur at Pebble Beach.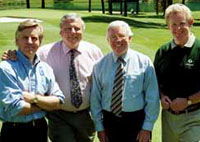 BBC crew at the Masters from the left, Rider, Alliss, Hay and Donnelly
Instead of heading home, Jones hung around to watch the action and talk to Mackenzie about his dream to turn a fruit farm into a private golf course. They agreed that it should be influenced by the strategies found in the Old Course at St Andrews.
Observes Rider: "It needed to be a test that rewards mind over muscle; where strategy is the key and holes which open up the strong possibility of birdies and eagles also open up the equally strong possibility of something a great deal worse."
Sadly, he reveals, Mackenzie didn't live to see his creation in use. Living frugally, partly because of delay in payment from the newly formed Augusta National Golf Club (many of whose elite members were hit by the Depression), he died in January 1934 after supervising the first seeding.
Rider recalls an ignominious start to his love affair with the US Masters when in 1982 as front man to ITV's then coverage of the event, he had to tell his audience that satellite booking was expiring at midnight (UK time) just as Craig Stadler was about to contest an eagerly-awaited play-off with Dan Pohl for the title.
"It was not a great start to my association with The Masters," says Rider, who began his career in London as a sports writer on his local paper, "and it's ironic that for me, 24 years later, I should return to ITV, where for the time being, I will concentrate on motor sport and Formula One and miss the opportunity to present a 25th consecutive Masters in April."
The Golfmagic Verdict

Rating:
9/10
Summary:
Full of memories of former champions and an insight into the roles that Europeans have played in Augusta's history, this book doesn't dwell on xenophobia, merely chapters the strong influence our golfers, creators – and indeed broadcasters – have had in establishing the event as the unofficial annual start of our UK golf season.
*Steve Rider will be signing copies of his book 'Europe at The Masters' at Waterstones, 1 Whittington Avenue, Leadenhall Market, London EC3 on Thursday April 6 (day one of the 2006 US Masters), from noon.