Maxfli Noodle Ice balls

Contact:
www.noodlegolf.com
Technology:
2-piece construction to deliver the long-and-soft performance and incorporating increased visibility and appeal. Transparent cover of coloured core.
Price:
£15 per dozen.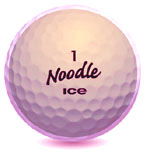 Noodle Ice has coloured core and transparent cover
It's probably just as well my group were not drawn to play off the first tee of The De Vere Belfry's Brabazon course last week, or I might have received some 'knowing looks' from the local green staff, assembled and ready to snigger.
Instead, the luck of the shotgun draw had me teeing up my pink Noodle Ice test ball on the par-5 17th, sheltered by trees from prying eyes.
Even so, my playing partners were a little embarrassed to witness my outrageous nerve at teeing up a pink ball in such famous surroundings.
But sometimes you have to suffer for your art and I'm an experienced enough golfer not to let such antics worry me...much.
In fact, my Noodle Ice – officially the colour is 'raspberry' and also available in tangerine, lime and lemon – performed just as you would expect from a quality Maxfli ball, despite its luminous core which beams through its transparent Surlyn cover.
As the makers predict, the colour tends to concentrate the mind at address, is easier to track in flight and stands out like a beacon in the rough – a shot saver in itself.
I became so attached to it that I returned to a traditional white ball when danger of losing it threatened at several of the Brabazon's water-influenced holes and in a follow-up round on my home course.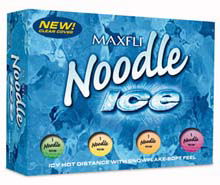 Noodle Special edition packs with a selection of coloured balls are already selling well in the US




At first, the ball's performance felt heavy off the clubface, but this could have been down to the wet conditions at the former Ryder Cup venue. However, in its second round the ball delivered the solid, controlled impact feel from my driver that the makers claim.

From medium and short irons the ball had a penetrating flight with little deviation through the air and on several occasions pitched and stopped within a few feet of impact on the putting surface – not unlike a Pro V1 and at less than half the price. It was durable, too, with only minor abrasions from sand escapes after the equivalent of two rounds.

On the greens it was difficult to leave my pink ball short which is good news for those of us who play our winter golf on slow surfaces and again the colour tended to encourage concentration at impact.

While this might not be a ball for the discerning chauvinist golfer prepared to risk his masculinity in front of his mates on a Sunday morning, it's a great idea for encouraging youngsters. And the special edition packs currently selling like hot cakes in the US could well make a big impact over here, too.
The Golfmagic Verdict

Rating:
8/10
Summary:
This is a ball that belies its slightly effeminate image and if I found one (my fellow tester Mal lost his between the second and third fairways at Greetham yesterday!), I would have no hesitation in putting it into play, despite the ribbing I might get. It's as long as many distance balls on the market yet delivers a solid feel and spins and bites even with medium irons. It's also easier to spot in flight and in the rough than traditional white balls. Sometimes it's good to get in touch with your feminine side!
*Tell us about the balls in your bag - as well as the clubs, shoes and waterproofs – by submitting a review to our new-look user-review section, which offers a dozen top quality golf balls to the three best every month.
And if you've got equipment to buy or sell second hand you can do that too, in our popular classified section.