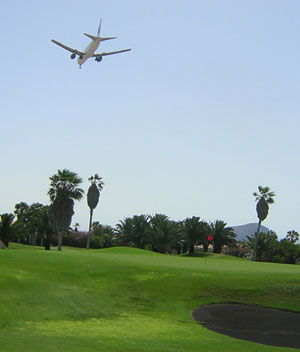 Jet roars over the 8th hole at Golf Del Sur
I stepped away from my putt on the 8th green at Golf Del Sur as the giant Monarch Airlines Airbus A320 roared in overhead on final approach into Tenerife South airport. The sound was almost deafening but I could imagine, less than 300 feet above me, at least a dozen golfers with noses pressed against the aircraft windows who couldn't wait to be in my shoes.
As the plane zoomed into land and the sound ebbed away, I knew I'd better get on with it - another one was only a few minutes away from distracting my shot from the next tee!
Every year over a third of a million golfers take an identical route in to this, the largest of the Canary Islands and spend approaching 30 million euro on their favourite sport.
No wonder Tenerife relies so heavily on golf to boost its economy. And the island repays its club-swinging visitors, nearly 30 per-cent of whom are British, by providing good-quality courses in good condition and at moderate prices.
Three quarters of the 52,000 rounds played in 2007 were by non-residents, attracted by the consistently sunny weather, the cooling breezes off the Atlantic and the eight courses, which range from Real Tenerife in the north of the island (Spain's second oldest course, created in 1932) to Golf Del Sur and Amarilla on the southern tip.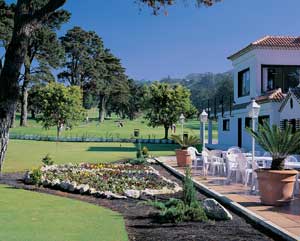 Real Tenerife - opened in 1932




There's even a course at Tecina on the tiny nearby island of La Gomera, designed by top English architect Donald Steel and only a 45-minute ferry journey away

Indeed the demand for golf is still soaring, so it's little wonder that there are rumours of at least two more projects in the pipeline, to satisfy the demand from not only Brits but Germans, Scandinavians and even Spaniards, finding their own mainland courses too crowded by foreigners.

Business is good for golf and golf is good for business.

I recently joined a group of tour operators and travel writers to get an up-to-date picture of one of the fastest growing golf destinations and discover why it is proving so popular.

It didn't take long. The journey from grey and gloomy Luton took less than four hours at a cost of less than £160 return (low season fares) and we arrived in balmy temperatures in the mid 20s centigrade.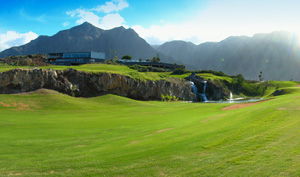 The clubhouse perched above Buena Vista GC




The hotels were immaculate, the roads not overcrowded and the streets were clean and free from the flotsam pervading many of our own city centres, apart from those, sometimes a little too enthusiastically, encouraging us to dine at their sea front cafes and bars.

On previous trips as a humble tourist, I'd already played the spectacular Seve Ballesteros course at Buena Vista in the north-west and the long-established Royal Tenerife Golf Club near the capital Santa Cruz. However, this was a chance to re-visit Costa Adeje which was hosting the Ladies Tenerife Open - a regular stop on the Ladies European Tour, whose chief executive Alexandra Armas is a former Tour pro and Tenerife native.

Developed from former rice fields - the stone-walled terracing and black-volcanic bunkers are unique features - the course has the most stunning views across to La Gomera.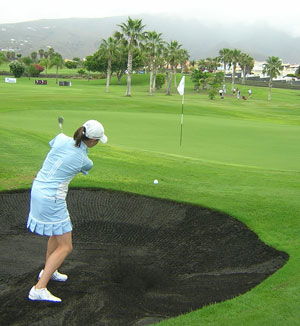 Tour pro Lynn Kenny plays from one of Costa Adeje's volcanic bunkers




The girls found it a tricky prospect in the fickle wind which blows off the sea - with Yorkshire lass Rebecca Hudson winning the title after a three hole play-off - but the facilities were, as always, first class.

A popular course, especially with visitors to the fashionable seaside playground of Los Cristianos is Golf Las Americas, now under the wing of the five-star Las Madrigueras, where Irishman Brendan Breen is the commercial director.

The course, which sits in a natural amphitheatre facing the sea, was designed by the doyen of golf coaches John Jacobs a former Ryder Cup captain, who saw the opportunity to create several risk and reward holes - especially the short dogleg par-4 fourth and 14th and two great little par-3s - at No.5 and No.13.

Las Americas has re-laid a handful of its greens but they are fast maturing and are firm and true, despite their infancy.

On this trip I didn't get chance to sample fast-running and windswept Amarilla or the Jose-Maria Olazabal-designed 9-hole at Los Palos.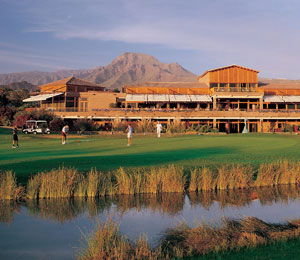 Imposing clubhouse at Las Americas




Neither was there time to take on the challenging Dave Thomas-designed Abama course which received some criticism from the proettes on Tour when it hosted the Tenerife Open in 2006.

One recalled: "The greens were a bit of a joke. Much too fast and undulating. It was the first time I've seen anyone putt off the green and out of bounds!"

However, much-travelled photographer Charles Briscoe Knight gave me his opinion from a previous visit: "Abama is American in style with Caribbean tendencies. The bunkering and fairways resemble much of the favoured styles used in Florida and the Carolinas, but the palm tree lined fairways and vistas are more in reminiscent of Jamaica and Barbados.

"Trying to keep your ball in play is all about strategy rather than outright length many holes demand accurate placement so that you have a good flat lie rather than an uphill, downhill and sideways slope with which to contend. And that's just the fairways! When you get to the greens it's a totally different story."

He added: "They're a cross between a rollercoaster ride and the greens you find at Augusta . If you think you need to borrow three feet – try six feet even 16 feet!"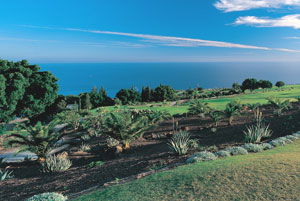 Tecina course on La Gomera island




Charles also visited Tecina Golf Club on the island of La Gomera - which meanders around the slopes above the ishing town of Playa Santiago, and smothered in an amazing abundance of floral vegetation.

He recalls: "The par-4 offers the chance to open the shoulders and blast a tee shot towards the azure ocean where a desert area of cacti, lava, and other hazards can gobble up your ball if the iguana don't get it first!"

Back on Tenerife, Golf del Sur completed my course examination paper with its windswept position overlooking a deep canyon where scenes from 'Planet of the Apes' were reputedly filmed.

I relished the challenge, finding the loose lava in the waste areas on many holes a daunting and unfamiliar hazard from which to clip an escape from wayward shot.

It's a tough track and not one to be attempted without a buggy, such are the stretches of long, elevated trails from green to the next tee. A European Tour caddie would certainly earn their fee and prize percentage here.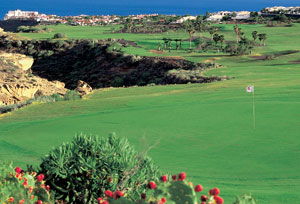 Spectacular canyon alongside Golf Del Sur




Golf del Sur also features many blind holes where local knowledge is essential. Alternatively you're in for a long round as buggies charge ahead to get their bearings before a player picks a line on the inevitable distant crane constructing yet another holiday development.

As another plane roared in overhead - the island accepts an average of 160 flights a day - I imagined how I would adjust to the peace and tranquility of golf back in rural England, when I appeared to perform better with the distractions that golf in Tenerife enjoyably provides.
FACT FILE

For more information about Tenerife Select please visit www.webtenerife.com

I stayed at the Hotel Gran Tacande (Tel: 0034 922 71 72 30) and flew from London Luton with low fares airline Monarch, which also offers year round flights to Tenerife from Birmingham, London Gatwick and Manchester airports, including taxes, starting from £77.50 one way (£138.99 return).