Magnificent clubhouse at Son Gaul
What a dire Winter it has been so far for golfers in the UK. Not only a recession but very often driving rain, howling winds and only the bravest of the brave venturing out onto the course. Now the talk is of a white Christmas.
Just the kind of forecast Palma Urban Golf has been hoping for!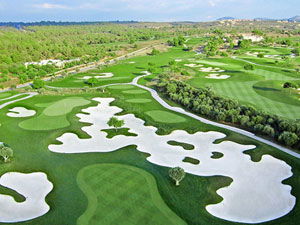 Aerial view of Son Gaul




Formed by the Hotels Association in Mallorca's capital, Palma Urban Golf's aim is to fill more of its town centre hotels with golf-hungry Britons looking to get some winter sunshine, play some terrific courses and not to pay through the nose for the privilege.

And what courses they are - and both within a 25-minute drive from central Palma.

Son Gual is without question one of the most visually stunning designs on the continent - and recently hosted a European Seniors Tour. Built by German Adam Pamer, who made a fortune out of double glazing and bought a holiday home for his wife and family, it was designed by three time national amateur champion, Thomas Himmel. Pamer spent some €40million moving tonnes of earth around 160 hectares to create this magnificent golf location, which opened in 2007.

Everything about Son Gual is big - elevated tee boxes each averaging around 900 square metres, run off areas around the greens making them look larger than they actually are, bunkers that can flank half the length of the fairway and lakes waiting hungrily waiting to swallow errant shots. All this against the backdrop of the Tramuntaner mountain range.

At 6,621 metres from the championship tees, many visitors will he happier playing from additional forward tees for men and women, though it's still a par-72. Any nett score approaching that will be well-earned and make a the sumptuous food and delicious local Mallorcene wine in the vast clubhouse, taste even better!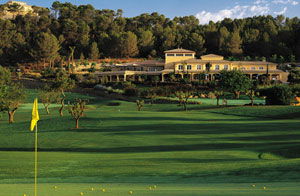 Son Muntaner




Alternatively head back into the historic town with its beautiful maze of streets, 13th century cathedral and traditional restaurants serving many of the island's fish specialities.

Next day, perhaps, head west for the hills of Son Vida and the Son Muntaner course, set in a wooded valley where, close by the 15th tee Mallorca's oldest olive tree, Sa Capitana, has grown for nearly 1,000 years. It's sister course, Son Vida, next door is less challenging but equally enjoyable.

The town of Palma has much to offer and with fabulous courses so close at hand, it makes a ideal base from which to escape the dark, dank British winter.

Fact fileFor two nights in a double room, breakfast included at the four star Hotel Saratoga in Palma with a round at golf at Son Gual and at Golf Son Muntaner cost €366 + VAT per person. For groups (minimum six) the cost is € 335 + VAT/person. Single supplement of € 100 + VAT/ person. A shuttle for up to 12 golfers costs an additional € 190 + VAT return to each golf course.Steve Killick was a guest of Palma Urban Golf, Son Gual and Son Muntaner, flying direct from London Gatwick airport to Palma on EasyJet.