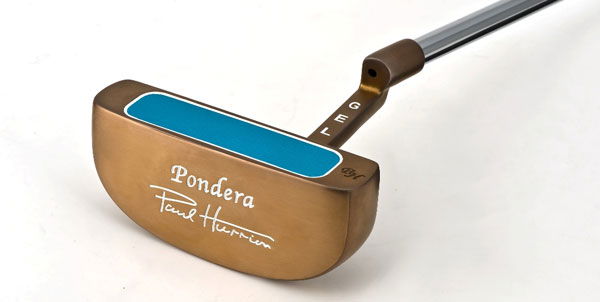 GEL's new Pondera putter designed by Paul Hurrion
    In association with putter-designer and putting coach Dr Paul Hurrion, GEL has launched four new models in his signature range - the Ora, Pondera, Vicis and Quasso models, all with a suggested price of £185.
Each putter has a GEL True Temper Dynamic Gold S400 iron shaft, rather than a standard putter shaft. This, claims Hurrion, enables the golfer to experience increased feel and improved pace control.



The Ora putter - distinctive looks with a GEL insert




The innovation has allowed for a repositioning of weight around the perimeter of the putter head using what GEL describes as 'a unique, inline weighting system with tungsten concealed in the putter head.' This, in turn, leads to a more rhythmic stroke, better response and less twisting at impact (MOI), for a truer roll.

The new line features the multi-layer, horizontal grooves developed by GEL Golf that are milled at a precise angle onto a soft aluminum insert, helping generate instant forward roll of the golf ball and reducing initial skidding along the putting surface.

Ora (Edge) putter has face-balanced blade with a 'crank-neck' hosel and full shaft offset, while the Pondera (Balance / Equilibrium) is a heel-toe, weighted mallet with similar hosel and offset. The Vicis (Time) and Quasso (Break) putters are similar styles but with different head weights.

"We're very excited about releasing additional models to our line of GEL putters," said Alec Pettigrew, managing director of Groove Equipment Ltd (GEL). "With Paul's expertise in sports biomechanics, GEL has delivered a putter for golfers of all abilities."

Hurrion currently coaches Padraig Harrington, Rory McIlroy, Lee Westwood and Becky Brewerton and says: "A putter designed with horizontal grooves to impart forward roll, peripheral-weighting that maximizes the sweet spot across the putter face and heel-toe weighting to increase the MOI for improved resistance to twisting on off-centre hits, creates stability at impact in the area of the game that matters most.
---

Win Glenmuir Gear
What's in your bag?
For a chance to win golf-gear from the latest Glenmuir range, tell us about the equipment in your bag. Submit a comprehensive review - from balls to drivers, golf gloves to sets of irons, shoes to powered trolleys - and give it a rating.
At the end of August, we'll assess the entries and award a Glenmuir Performance Hi-Cool shirt, a Glenmuir Storm-Bloc vest and a distinctive Glenmuir cap to 3 worthy winners.
To submit a review CLICK HERE
---