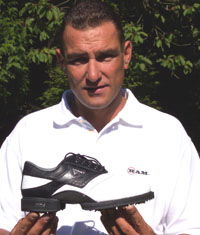 Vinnie Jones with the Profile shoe
You won't find a golfer with more attitude than footballer – turned-Hollywood actor Vinnie Jones. He works hard and plays hard but finds the latest Stuburt Profile shoes keep his feet firmly on the ground.
Jones, a 16 handicap member at Aldenham, who can often be found tramping the fairways of The Grove near his Hertfordshire mansion, revealed that he recently played in a Los Angeles charity tournament alongside film legend Kevin Costner, star of 'Tin Cup' and many other film smashes.
Jones, loves country pursuits in his spare time and always makes time for a round with his mates at Aldenham and it was during one of these that he was introduced to Stuburt shoes,
"I love them," he says "they look great and are incredibly comfortable. On top of that they're a British brand, which obviously makes them even better!"
The Profile is Stuburt's lead shoe next year and the range boasts five models which all feature leather uppers, waterproof membranes and distinctive high-tech sole units and Champ scorpion stinger studs.
Prices range from £34.99 to £59.99.
Says Stuburt's Cliff Dews: "The new range has been extremely well received and for someone as high profile as Vinnie to choose them is a real boost."