Carrying bags is 'madness'




Carrying a golf bag is madness. It's bad for your health and bad for your golf game. That's the opinion of leading experts including Ernie Els' fitness coach and a leading Harley Street chiropractor.

Another expert says that carrying a golf bag does 'absolutely nothing' for your golf game and in fact it 'does quite the opposite'. As for pulling a golf trolley it can be harmful to your body.

Though some might question the outspoken comments and motives of experts in a survey prompted by PowaKaddy, the market leader in electrically driven golf trollies, there's no denying that even with today's better balanced dual straps, carrying a golf bag full of clubs around 18 holes, can be quite an ordeal, even for the fittest golfers.

Josh Salzmann, fitness coach to Ernie Els and other leading sports and entertainment clients and the resident fitness expert at Wentworth, says he's dismayed when he sees thousands of golfers arrive on the first tee carrying their golf bags. He believes that carrying a golf bag encourages poor body alignment.

"Repeatedly lifting and carrying a bag full of metal over a four-hour period is madness. If I asked someone to do the equivalent with dumb-bells in the gym you would think I was crazy! The safest and healthiest way to get round the course is with a PowaKaddy. If you carry your bag you are putting too much stress on your body, compromising your posture and weakening your core strength, all of which are essential to your golf game and general health"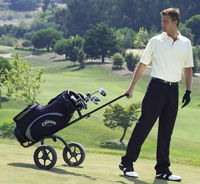 Pull trolley can cause injury




Leading Harley Street doctor of chiropractics, Antoni Jakubowski, whose regular patients include Retief Goosen, Thomas Bjorn, Nick Faldo and Justin Rose, goes even further.

He suggests that pulling a trolley is just as harmful as carrying.

"Carrying a golf bag or pulling a trolley is one of the leading causes of injuries sustained by golfers. The bending, twisting and lifting motions all eventually cause a sprain or strain injury to your shoulder, wrist neck, hip and or back.

"Persevering through the aches and pains will eventually sideline a golfer with a needless injury. Using a PowaKaddy, the majority of injuries can be prevented while still enjoying the walk on the golf course. The game of golf is hard enough without having to worry about these eventual injuries."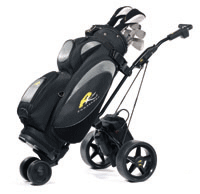 Latest electric trolley from PowaKaddy




Mary Mackay, a sport therapist who treats many leading Tour professionals including Thomas Bjorn and Nicholas Fasth, believes that golfers are missing an opportunity to improve their game by carrying their bag.

"I work with golfers to enhance their performance and carrying a golf bag does absolutely nothing to improve your play – in fact it does is quite the opposite.

"A common symptom of carrying the golf bag is that the shoulders become elevated therefore shortening the muscles and making it extremely hard to let the arms fall down into the correct position at set up. Using a PowaKaddy not only alleviates this problem but can also contribute positively to your game by preserving your energy for executing the shots," says Mackay.

This latest endorsement from respected health and fitness experts is sure to fuel demand for energy-conserving electric trolleys, though, personally I wouldn't like to see a growth in petrol-driven buggies.




Carrying and pulling can be hard work




It irks me to see perfectly healthy youngsters as well as twenty and thirty-somethings shunning the opportunity to walk a course when they can climb aboard a golf cart.

Come the revolution I'd like to see the younger generation denied access to them unless they can provide a doctor's certificate to say they need one.

I was in my local pro shop the other day when two strapping lads asked for two green fees and two buggies. When informed that a society had pre-booked all the club's 20-odd buggies the pair decided they'd rather not play than have to walk!

Tell us on the forum whether you're a bag carrier, a trolley-puller, a buggy driver or own an electric trolley. And tell us about your preferred way transporting your equipment around the course by submitting a bag or trolley user review for the chance to win prizes every month.