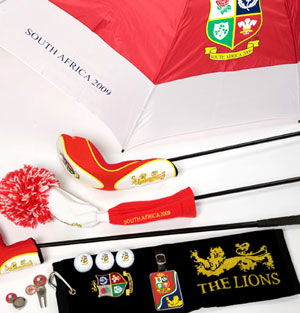 Lions Tour golf souvenirs
With the British and Irish Lions rugby squad soon to leave for their tour of South Africa, Premier Licensing, the number one supplier of licensed golf accessories in Europe, has launched a range of official golf accessories.
Available now at all leading golf retailers, the comprehensive souvenir set consists of everything any golfing Lions fan could possibly need. From head covers to umbrellas, bag tags to gloves, balls to divot tools. The entire range has been manufactured enabling Lions fans to show their true colours on the golf course.
In an exclusive competition we're offering the chance for two lucky Golfmagic winners to receive a British Lions umbrella and headcover and two more to receive a British Lions pitchmark repairer and ball marker.
For a chance to win tell what you think the total points will be in the Lions opening fixture on May 30 against a Highveld XV at Rustenburg. The winners will be the nearest to the total and a draw will decide if five or more have the right answer.
CLICK HERE to enter (restricted to UK and Ireland).
Closing date is May 29 with a maximum of three entry posts per member.
Since it's inception in 2006, Premier Licensing has established itself as the market leader in licensed golf accessories, also holding licences for England Rugby, Real Madrid, Chelsea, Manchester United, Arsenal and Liverpool as well as the British and Irish Lions.
For your nearest stockist visit www.premier-licensing.com.
British and Irish Lions Tour fixtures: May 30: v Royal XV (Rustenburg) June 3: v Golden Lions (Johannesburg); June 6: v Free State (Bloemfontein) June 10: v Sharks (Durban); June 13: v Western Province (Cape Town); June 17: v Coastal XV (Port Elizabeth); June 20: v South Africa (Durban); June 23: v Emerging Springboks (Cape Town); June 27: v South Africa (Pretoria); July 4: v South Africa (Johannesburg).