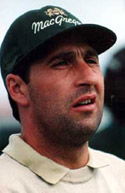 Olazabal - controversy
It's sad that an event like the Seve Trophy, played in such great spirit, should be soured be an incident between two of the finest players in Europe.
Irishman Padraig Harrington and Spaniard Jose Maria Olazabal were paired against each other in a crucial singles on the final day of this Bi-annual tournament when Harrington asked the referee to rule whether Olazabal could repair two pitchmarks on the line of his eight foot putt on the third green at El Saler.
The Rules of Golf state that pitchmarks made freshly by a ball or from previous players, may be repaired at all times on the green though other imperfections (spikemarks made by shoes, for example) cannot be tapped down on the line, or extension of a line of a stroke.
While Harrington looked around for the referee to intervene, Olazabal went ahead anyway and did his repair work. And when Harrington mentioned it before continuing with his own putt, Olazabal, feeling his integrity was being questioned, conceded the hole and marched to the next tee.
Harrington apparently pleaded with him that it wasn't the case at all but the double US Masters champion wasn't having any of it. The remaining 15 holes of their match was played in stony silence as the incident festered. And despite the efforts of Harrington to appease the situation, Olazabal stiffly refused to accept his explanation.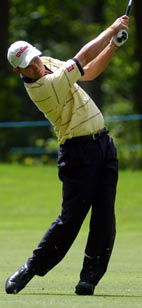 Harrington – awkward time.
It didn't help that Harrington, forced a half point from their match on the final green with a four foot birdie putt, enough for Great Britain and Ireland to retain the overall Trophy 15-13.
For around 15 minutes beside the 18th green, the pair were locked in private conversation, Olazabal squared-jawed and with a moody countenance, steadfastly refused to accept all efforts – including those by captains Seve Ballesteros and Colin Montgomerie - to secure a peaceful settlement.
Harrington later said: "It's not worth losing a friend over, but we had 15 very awkward holes after that.
"I was not trying to question his integrity, but that's what he thought and I can 100 per cent see his side. I certainly won't be celebrating tonight and it's not the way I would have liked to get a half."
All Olazabal would say was: "I don't want to spend any time talking about it. We had a difference of opinion and I'm not going to waste any more time talking about it."
Though Olazabal's sportsmanship has never been in question – especially after he suffered nearly two years of despair with a back injury that threatened to wreck his career – it's not the first time he has been embroiled in Rules controversy. It has happened three times in Ryder Cup matches.
In 1999, he was the innocent victim of US players and caddies running on to the 17th green, when they thought his opponent Justin Leonard had holed a Cup-clinching putt. Olazabal actually had a putt to keep the match alive.
On the first hole of the 1987 fourballs at Muirfield Village, Olazabal planned to play out of turn to help his partner, Ballesteros, learn from his line for a crucial shot. His opponent Curtis Strange objected as he would be standing on the line of the American's putt. A simmering Seve settled the issue by holing his chip from off the green.
In 1991 at Kiawah Island, Paul Azinger and Chip Beck switched between balls of differing compression in a way that broke the "One-Ball Condition" Rule. Ballesteros and Olazabal suspected an error, but as they did not alert the referee before playing the next hole, they could not claim the hole under Rule 2-5. The incident has ever since caused bad blood between Azinger and Seve.
Early in his professional career Olazabal fell foul of top referee Jon Paramor. His ball plugged deep in a bunker of fresh sand on a new Tour course, the angry Spaniard complained. When coolly requested to 'play it as it lies' he rounded on Paramor – "well you play it, then!" The burly official, himself a three-handicapper, later gave Olazabal a dressing down and fined him for his insolence.
While one of the greatest players ever to grace a golf course, the 37-year-old from Fuenterrabia can often appear surly and uncommunicative. I'm not the only golf-writer who within hours of spending time in his company can be 'blanked', despite a friendly greeting.
It would be sad if this weekend's incident effects the team spirit of future matches involving Harrington and Olazabal on the same side and the European Tour should act quickly to enforce peace talks between the two.
Tell us on the forum about incidents you have experienced over Rules controversies.