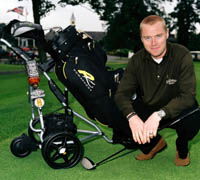 Ronan with his custom-built trolley.
When top recording star Ronan Keating revealed that his favourite passions were golf, listening to music and riding Harley Davidson motorbikes, Kent-based PowaKaddy International stepped in to spring a surprise.
At the annual charity golf day in aid of the Marie Keating Foundation, PowaKaddy's David Wells unveiled not one, but two 'RonanKaddies' complete with Harley Davidson motifs, stereo music centre with head phones and a nifty optic from which to serve the singer's favourite bourbon whiskey tipple.
One model the Irishman kept for himself, the other raised £2,000 for the charity founded in memory of his mother.
His ultimate golf toy was adapted from the world's best selling PowaKaddy Freeway Sport, a popular accessory among the trendy celebrity golfers, who prefer not to tote their clubs on expensively insured backs.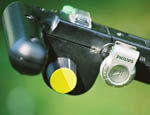 Stereo system on handle.




The mini-disc sound system is wired up to the trolley handle so Ronan, who has been playing golf for six years, can easily change tracks at the push of a button, enabling him to catch some tunes via a pair head phones during delays on the course.

The Jack Daniels bourbon whisky dispenser on the trolley holds a full bottle, ice flask and two glasses while the famous Harley Davidson emblem is fitted to each wheel trim.

The 26-year-old former lead singer of Boyzone is best known for his No.1 hits 'When you say nothing at all' and 'Life's a rollercoaster'. He's now co-manager of the Irish boy band 'Westlife' who have inherited his enthusiasm for golf.

"This is the coolest piece of golf equipment I have ever seen! It's got everything and it's great not have to pull a trolley anymore," said Ronan, who plays to an 18 handicap and manages to fit in regular rounds at The K Club and Carton House, both near Dublin, where Colin Montogomerie and Mark O'Meara have recently designed new courses.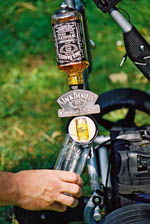 Drinks dispenser.
Added David Wells: "This project has given us all immense satisfaction. Our designers have had great fun overcoming some challenges and we are pleased to be able to help out a great charity in the process."
PowaKaddy International Ltd is owned by European Golf Brands, the world's largest manufacturer of electronic golf trolleys.