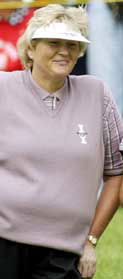 Laura Davies




Laura Davies came up with a novel, though somewhat drastic way of improving slow play at Sunningdale.

Asked to suggest a remedy to speed up the tortoise-like five-hour rounds during the Weetabix Women's Open, she remarked on Saturday: "Shoot them!"

She looked irritated by the antics of 19-year-old Finnish playing partner Minea Blomqvist who the previous day had set the lowest ever score at a major golf championship, (men's or women's) with a stunning ten under par 62 round Sunningdale's Old Course.

The former UK No.1 was muttering while Blomqist and her caddie dallied over putt lines and sought referees rulings.

"I think the girls play too slowly. Having been inside the ropes a couple of weeks ago (as a BBC on-course commentator), watching the boys play at Royal Troon, their ability to complete a round in four hours and 20 minutes says it all really," said Davies.

"We should play quicker, everyone knows that. I sure the players speed up when the officials are timing them and slow down when they go. It's an art form and it's bloody irritating.

"I've just got this feeling that the reason is that all short putts get marked. The girls seem to take much more care about standing on the lines while the guys just putt out anywhere upto three feet.

"Perhaps women's etiquette is over the top and people should just tap in, unless the greens are really wet. But on greens like this, you could stand all day in a spot and not make an indentation. They're perfect."

At Golfmagic it's one of the most contentious topics but unless we start penalising amateurs strokes or risking disqualification, is there much that can be done? Tell us on the forum your experiences of slow play and your, perhaps less drastic, remedies.