With only six weeks in which to get your entries in, the Daily Telegraph/Wilson Matchplay Championship for amateur club golfers is fast-emerging as the biggest event of its kind in the UK.
This year the competition for men and women in both singles and fourball betterball format - celebrates its 10th anniversary and the organisers are looking to exceed last year's entry of 6,000 golfers from 1,800 golf clubs. All are competing for a chance to take part in the national finals at the world famous Portuguese Algarve resort of Vale do Lobo.
Golfmagic.com has signed up as the online partner for the event in a bid to increase the number of individual golfers and those taking part in the pairs event .
Both men and women can enter - and could be play against each other individually off appropriate bona fide handicaps. And in the pairs, entries can be all male, all female or mixed.
Entries close on May 16, so get yours in now.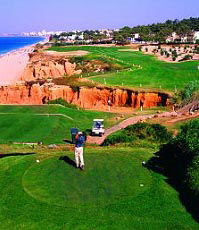 Famous 16th at Vale do Lobo




First round matches will be played in June, with golfers battling through four rounds to a series of eight UK Regional Finals in October. Entry options are £26 for an entry into the singles or £37 per pair.

The luxury Vale do Lobo resort will host the final – featuring 44 golfers for an all-expenses-paid trip next January.

The climax to the 2004 event came in January 2005, in glorious sunshine, when after four competitive rounds on Vale do Lobo's spectacular Royal and Ocean courses, Chelsea supporters Clive Jones (handicap 4) and Warren Powick (6), from Ashford Manor GC in Middlesex, won the pairs final

The individual title went nine-handicapper Samantha Hill, from Isle of Purbeck GC in Dorset who played consistently throughout the week.

The venue proved perfect for the final and Warren Powick summed up the feelings of most when he said: "We have had a glimpse of what it must be like to be a top professional golfer. We have played in a professionally-organised 72-hole tournament on two superbly presented championship courses and during the final round we experienced huge pressure. It was a truly memorable experience."

David Hughes, managing director of event organisers GMM said: "I'm confident the 10th anniversary year of this tournament will be the biggest and best ever. We look forward to working with our new partners and welcome the renewed support of long-time supporters Wilson, Vale do Lobo and The Daily Telegraph. We encourage all UK club golfers to take part in this exciting event."

"We are delighted to continue our sponsorship of the Championship which has brought so much pleasure to so many golfers", said Mike Laney, brand manager UK Golf for Wilson Sporting Goods.

Mark Dangerfield, marketing manager at Golfmagic.com adds: "At Golfmagic.com we are all about playing and talking about golf in its many forms. And that is why we are excited to be working with such a well-run amateur competition as the Daily Telegraph/Wilson Matchplay Championship." Golfers can enter the 2005 Daily Telegraph Wilson Matchplay Championship on www.matchplay.co.uk, email: entries@matchplay.co.uk or call FREEFONE 0800 092 6379. Alternatively write to: Freepost, GMM Ltd, NWW 1224A, Llandudno LL30 2ZZ for further details.