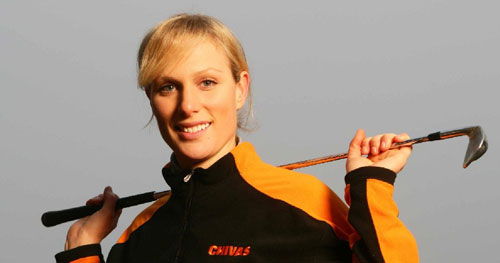 New golfer Zara Phillips facing a new challenge
Golf has been given further Royal patronage by the announcement that the Queen's grand-daughter, Zara Phillips, has been taking golf lessons ahead of her appearance in the Chivas Snow Golf Championships in St Moritz at the weekend (January 11/12).
The appearance is part of the current World Equestrian Games gold medallist's new two-year sponsorship deal with the Scottish whisky company that will see her joining jockey, Frankie Dettori and former European Tour winners Costantina Rocca and Paul Eales on the icy slopes in the shadow of the stunning Corvatsch mountain.
Seventy-five competitors from 12 countries will play over a unique 9-hole course with ice-bound greens using orange golf balls.
Said Miss Phillips, whose uncle the Duke of York is a former captain of the R&A and whose grandfather Prince Phillips is a member at Swinley Forest and The Royal Household Golf Club at Windsor Castle: "I'm really looking forward to it. I'm a novice golfer but it's a new challenge.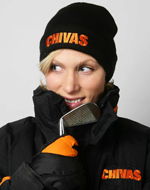 Zara Phillips




"With the Olympics coming up, 2008 is a big year for me and a few days in St Moritz is a great start to my New Year."

Her mother Princess Anne, however, who opened the Carrick Course at Loch Lomond in 2006, is not such a fan of golf. When asked about the game she famously remarked: "I'd rather take the dogs out!"

Also competing for the Chivas Regal Trophy will be European Tour players Lee Slattery, Chilean Christian Leon and Indian professional Rishi Nahrain.

The event will be played over holes made between 120 and 180 metres in length. Snow will be heavily compacted the day before the tournament to define the fairways with the 'whites' re-frozen each night to ensure the ball runs as smoothly as possible for putting.

Preferred lies will apply with an additional local rule allowing competitors to re-tee every shot apart from those on the 'whites' where brushes are provided to sweep the surfaces.

If a ball is lost, a new ball may, under penalty of one shot, be put in play, at a point as close as possible to the spot where the original ball is deemed to be lost.

Tell us on the forum if you've played snow golf or similar in icy conditions. What were your tactics?