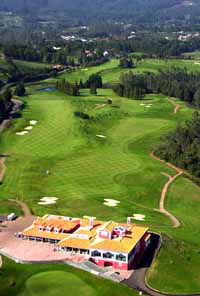 Santa da Serra from the air
Mention Madeira and perhaps it conjures up images of old age, old England and old values - a geriatrics' paradise of flower gardens and tea rooms, set in an idyllic Atlantic island.
While some may merely prefer its polite and refined elegance, there's more to Madeira than that and it's beginning to attract a younger clientele who seek the sophistication and quality that doesn't necessarily exist in Tenerife and the Costa del Sol.
There's even nightlife in its capital Funchal, catering for all tastes, without rowdy youngsters creating havoc in the streets.
Summer months have been traditionally quieter for tourism. It has built its reputation as a winter resort but the pleasant springtime feel hardly changes in July and August, creating perfect conditions for walks through forests or golf in spectacular scenery.
The choice is either 18-hole Palheiro overlooking the city or 27-holeSanto da Terra, in the mountains.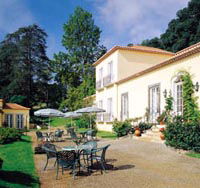 Casa Velha Palheiro clubhouse
Palheiro Golf is a par-72 course designed in 1993 by Cabell B. Robinson, former assistant to Robert Trent Jones. It's more mature than its 11 years suggest and utilizes the natural terrain of hills, peaks and deep valleys and is naturally tricky, rather than 'tricked up.'
Undulating fairways, cleverly positioned bunkers and fast greens can initially catch out the golfer used to UK winter conditions.
I was grateful to course owner Adam Blandy and his pro Ashley Northridge for showing me a range of shots and lines to avoid for several blind holes.
An example is the par-4 fourth. An approach to a hidden green needs to be played to the right. I sliced mine but found a surrounding bank which set up a surprise birdie! Similarly the par-5 14th doglegs right, demanding a fade over bunkers, avoiding a wooded hillside to the left.
The course, with its five par-3 holes, is surrounded by sub-tropical gardens which are an attraction in their own right. For much of the year, the 13th in this Atlantic Augusta has a backdrop of blue agapanthos.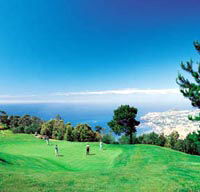 Palheiro – stunning views
A 'Halfway House' is a welcome touch after the steepness of the 8th and 9th holes.
The course rewards players who can 'work' their ball and listen to the locals. Indeed playing with a member and using the course planner is almost essential.
The clubhouse and its veranda are impressive with views over Funchal and the food pretty spectacular, too.
Santo da Terra has been the traditional home of the European Tour's Madeira Island Open since 1993 and at 2,300 feet above sea level consists of three 9-hole loops - the Machico (red), Desertas (blue) and Serras (yellow). All were designed Robert Trent Jones.
Weather can be changeable, however, as Tour pros discovered the week before but we were fortunate to enjoy sunshine in 22 deg temperatures.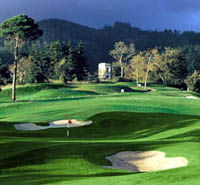 Palheiro – touch of class
The red and blue courses hosted the Tour event and were in excellent condition with greens as fast as greased glass. Sadly after starting on the Machico, the alternative Serra loop didn't meet expectations – the greens were much slower and the course looked a little neglected. Understandable, perhaps, considering the demands of the Tour.
On the Machico some shots were played to a backdrop of the Atlantic Ocean with a feeling of being above the clouds, in clear cool air, invigorating and astringent. There are a lot of tough climbs, particularly back to the clubhouse, so if you're not fairly fit, it's worth paying extra for a buggy. This was a stunning nine holes demanding terrific tee shots, aggressive approaches and perfect putts.
In comparison the yellow course was disappointing. A typical resort-style layout with some palms and shrubbery lacking some TLC and spoiling the quality effect. As for the clubhouse food, though the views over the ocean were stunning, save your money for a Funchal restaurant.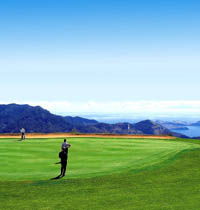 Santo da Serra's Atlantic vista
Funchal boasts a several five star hotels. We stayed at the luxury Madeira Palacio for two nights, which has every amenity including two superb restaurants and one night at the Casa Velha do Palheiro, a former 19th century hunting lodge and now part of the Relais & Chateau group of 5-star hotels, boasting both luxury and comfort.
Alternative accommodation is at the Quinta da Bela Vista set in its own gardens with a stately home atmosphere.
While this kind of accommodation comes at a price and with only two golf courses available to the holiday golfer, Madeira is ideal for a short break. There's much to see and do and boundless 'retail therapy' opportunities.
However, for a smooth seamless holiday I'd strongly recommend using a tour operator like Serenity Golf to plan your trip. Without their help, there are no guarantees that tees can be booked at short notice.
Footnote: There are plans to incorporate the island of Porto Santo, three hours from Madeira by ferry or a twenty-minute flight. A new golf resort opens later this year there, designed by Seve Ballesteros. Other attractions there include an 8-mile beach of therapeutic sand.

If your interested in golf abroad then take a look at our Travel Partners who specialise in golfing breaks to European and Worldwide destinations.