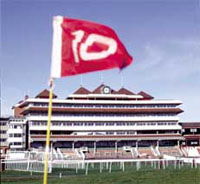 Newbury's golf and race course
The news that golfers Sam Torrance and Laura Davies have become race horse owners with Favourites Racing – a leading racehorse ownership group – got me thinking about courses and horses.
Many's the time I've watched horse racing on TV and taken greater interest in the background to the track where I've spotted the odd flagstick, green and bunker nestled among the neatly painted rails, the hurdles and the steeplechase fences.
Surely with all their surrounding facilities of grandstands, bars, restaurants and car parks, there must be dozens of horse racing tracks that would dovetail neatly into golf courses. A nine-hole layout would be ideal to fit into the centre of a racing circuit – closed only for the occasional meeting.
But surprisingly there are only a handful in Britain and Ireland. Indeed one of the best known – inside the Royal Ascot track - has just been closed down to make-way for a multi-million pound re-development.
Originally designed in 1887 by JH Taylor, this exclusive 18-holer was a popular venue for the horse-racing fraternity.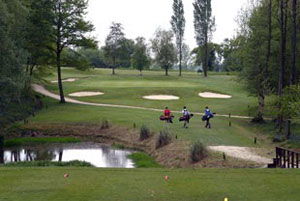 Racing at Lingfield
Other courses nearby that are home to race tracks include Sandown Park's (01372 461234) nine holes, created in 1970 by John Jacobs and Lingfield Park which will stage a major race William Hill meeting this weekend, when the golfers will be driven off the course by thousands of spectators, not to mention dozens of jockey's private planes.
Owned by Arena Leisure, Lingfield Park's 18 holes (01342 834602) features ponds, streams and a variety of mature trees, set in 200 acres of Surrey countryside.
The course itself, opened in 1987, is only briefly adjacent to the turf and all-weather race courses, principally by the first tee and again as golfers cross the racecourse to play the loop of holes from the 12 through to 16 before returning to the 17th. This runs briefly alongside the flat course, before returning into the woods.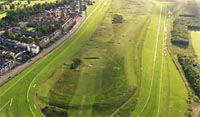 Musselburgh from the air
Two other venues where golf and racing go hand-in-hand are at Newbury (01635 551464) further west at Wincanton, 30 miles south of Bristol.
Newbury's 18-hole (Par71) course was opened in the early 1990's and as a valuable year-round addition to racing you can even get nine holes before a meeting whether it be horses or business. Water comes into play on six holes with ditches and gorse adding to the hazards.
There are five full-time teaching professionals, and as well as a conference centre facilities include a practice range and putting a chipping greens.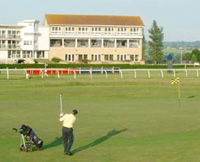 Wincanton's 18th
Wincanton (01963 34606)has a links-style nine-hole course which opened in 1994 using an historic barn as its clubhouse within the racecourse boundaries.
The finishing holes are overlooked by grandstands with a challenging par-3 18th completing the back nine. Large undulating greens are renowned for their speed and quality.
With 16 race meetings every year, Hereford Municipal golf course (01432-278178) has to take a back seat when horses come to town. But its nine holes, built in 1993, provide an excellent parkland challenge.
It's a similar story at Ludlow (01584 856285 ) where 18 holes of flat heathland and gorse fit neatly into the middle of the racecourse.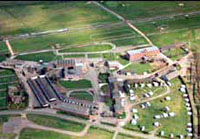 Market Rasen – out of bounds
Heading north, Warwick (01926 494316) golfers and race-goers are in perfect harmony over a flat parkland 9-hole layout within the rails, giving in different twist to the term coming down the stretch.
At the Lincolnshire national hunt track of Market Rasen (01673 844532) it's a similar story but with the whole of the racecourse on this pay and play facility out of bounds.
The longest hole is the par-4 fourth at 454 yards and where the race track provides a hazard over its entire length.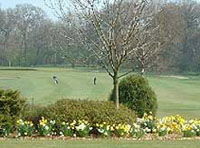 Parklands complex .
Completing the racing and golf picture in England is Newcastle race course , which shares the High Gosforth Park Estate with the Parklands golf complex, reputed to be one of the friendliest in the North of the country.
As well as an 18-hole golf course of tree-lined fairways with out of bounds threatening 11 holes, there's a driving range, a 9-hole pitch & putt course and a practice putting green.
The Old Course at Musselburgh, near Edinburgh is Scotland's oldest and steeped in history. It was reputed the Mary Queen of Scots played this 9-hole links in 1567 where it still weaves in and out of the Musselburgh race course.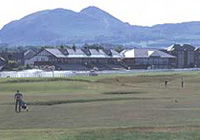 Musselburgh – where golf and racing mix
Originally it was seven holes, with two more added before 1870. Beside the fourth green and 'hard shanks' bunker, stands Mrs. Foreman's Inn where there was a hatch in the wall from which refreshments were served to the early golfers, who included the first Open champion Willie Park and famous club and ball makers Douglas McEwan and John Gourlay.
Finally to Ireland where golf is as much in the blood as horse racing. However we could find only one place that shares its land with golfers.
Navan Golf Club, has a fantastic 10-hole golf course (par 72 championship course) within the track, having won a landsca[ping award for it in 1999. A short ride from Dublin, it Comprises 6,800 yards with sand based greens on undulating ground with five water hazards. There's also a 15-bay driving range covered and floodlit.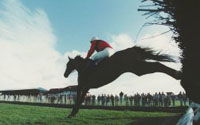 Navan has a 10-hole course
It's good to know that Sam Torrance, another Scottish legend and Laura Davies are extending the traditions of golf and horse racing alongside Lee Westwood and Darren Clarke who also own some thoroughbreds.
Says Torrance: "I've always had a passing interest in racing, but now I'm involved in several Favourites horses and looking forward to getting closer to the action, sharing in plenty of fun and hopefully cheering home a few winners!"
Have you played any of the courses we've mentioned in this special feature. If so, submit your own user-review.