Knowle Golf Club, currently celebrating its centenary, will host the third round of the TaylorMade/Golfmagic Trophy on June 2. There are still places available at £38 per player.

Price includes 18 holes stableford competition, 2-course meal, TaylorMade goodie bag (including sleeve of balls at cap) and access to all the latest TaylorMade equipment on the demonstration range.

One of the oldest clubs in the region and in a mature parkland setting, Knowle was first used in 1905 when a 9-hole course was built and extended to 18 holes in 1912. It retains much of its early charm and indeed hosted multi-major champion Walter Hagen for an exhibition match in 1933.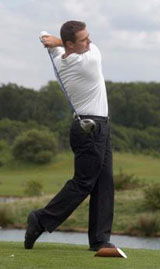 Mark Sanders




It has reputation for fine greens and friendly, welcoming atmosphere among Bristolians and is recognised as a good test of golf over two contrasting nine holes loops.

We asked European Tour professional Mark Sanders, 1998 winner of the English amateur title, who learned his golf at Knowle, for an insight into the course.

"You really have to take care over the first four holes and then make your score between holes five to 13, because the last four can be quite tough," he told me.

"Though I did once drive the green, the third, a downhill dogleg par-4 over out of bounds, is tough for the members and visitors at 340 yards and one to be wary of, especially as there are trees on the left." he says.

"Stroke index one is the par-4 14th, again with out of bounds on one side and trees on the other. There's also a ditch at about 270 yards from the tee that can be in play-off the tee and for you second shot. OB also encroaches close by on 16, where there also a plantation of trees. We used to get a free drop. Not anymore!"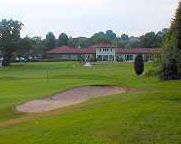 Knowle clubhouse




Mark says the 17th is the most picturesque hole, driving through an avenue of trees to a green almost enclosed by trees. Beware ditches on both sides and a huge bunker on the right.

"Knowle has a great final hole – a 550 yard par5," says Mark who held the course record briefly with a 64. "You can't see the fairway off the tee, because it sweeps downhill, so it's a bit daunting for visitors. But it's a great hole to finish."

Mark (30), is currently hoping for better fortune on the European Tour having just spent two fruitless days at the Daily Telegraph Dunlop Masters at the Forest of Arden and the Nissan Irish Open in Kildare.

"I was first reserve for the Masters and spent all day Thursday on the practice ground waiting for someone to drop out. No one did, "recalled Mark.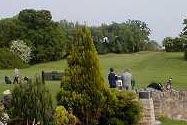 10th hole at Knowle




He then spent £500 entering a EuroPro event, played the first round and received a call that he was first reserve for the Irish Open.

"I flew over on the Wednesday and when Padraig Harrington thought he might pull out, I thought I'd be in. But he recovered and I spent yet another day on the practice ground, waiting for the call that never came," said a disappointed Mark.

With his qualifying school ranking he has so far earned seven starts on the 2005 European tour calendar including south Africa, China, Portugal Spain and Madeira and has yet to make a cut, underlining the fact that professional golf isn't all the glamour some might perceive.

"It has been tough so far and I've spent £15,000 with no prize money to show for it, " says Mark who's jobs have included, painting and decorating, van driving and supermarket shelf-stacking to make ends meet.

"My putting has let me down and 30-31 putts a round is below the standard needed to make money on Tour. But it's improving and now I just need a break and I'm sure I can succeed," he says

An avid Liverpool fan, who was once hit by a bus on the way to a match against Newcastle, Mark will not qualify for the BMW Championship at Wentworth this week, but still hopes to be celebrating – if Liverpool can claim the European Cup again AC Milan in Turkey on Wednesday night.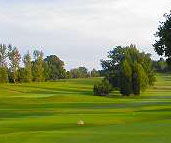 View of the 18th hole at Knowle




There's still time to enter the latest TaylorMade/Golfmagic Trophy event at Knowle on June 2 and places are also available in the remaining tournaments in the series at Breadsall Priory, Surrey National, Marriott Worsley Park and Marriott Hanbury Manor.

The overall winner (best two stapleford scores over the series) will receive the latest TaylorMade driver, custom fitted on the MATT system at the De Vere Belfry, followed by a round on the Brabazon Ryder Cup course.
Book these dates
Thursday, June 2: Knowle (Bristol), £38 per player - Book now
Tuesday, July 5: Marriott Breadsall Priory (Derby), £85 per player - Book now
Wednesday, August 24: Marriott Worsley Park (Manchester), £82 per player - Book now
Tuesday, September 13: Surrey National, £41 per player - Book now
Wednesday, October 5: Marriott Hanbury Manor (Ware, Herts), £103 per player - Book now