The prospects for the first of seven TaylorMade/Golfmagic Trophy series rounds, looked grim when a blizzard swept across the exposed links at The Oxfordshire on Friday.

Players were summoned to the practice ground to try out the latest TaylorMade equipment and collect their goodie bags, wrapped up against a stiff northerly sweeping down from the Arctic circle and guaranteed to make scoring on this former European Tour venue, somewhat demanding.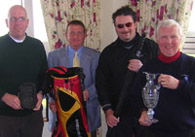 From the left: Tom Roberton, Shaun Hearmon, Angelo Esposito and GM editor Bob Warters




However, snow turned to sleet and then to rain for the early starters and finally only a 30mph icy chill remained throughout to add an extra dimension to one of the toughest inland courses in England.

With superb greens, amazingly slick for this time of year, yawning bunkers and soggy fairways, most struggled to live up to their handicaps but no one failed to enjoy the opportunity to pitch their golf games against a formidable course, in trying conditions but among fellow Golfmagic members, many of whom were meeting for the first time.

New long term friendships were struck with fellow golfers, many of whom previous only masqueraded under pseudonyms on the Golfmagic forum.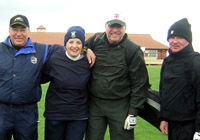 From the left: Alan Taylor, Kate Evans, David Murthwaite, Bob Taylor




But while some grumbled they had left their real golfing identity on the freezing practice range, others emerged with great credit – especially the winner Shaun Hearmon, a 13 handicap member at West Middlesex.

His stableford points tally of 37 was outstanding and beat his nearest rival Alastair MacDonald from Hampshire by three points.

Shaun, who works in the building industry with playing partners Gerry Dempsey and Patrick Little as a 'roofer', said the highlight of his round was a birdie at the par-3 13th over water.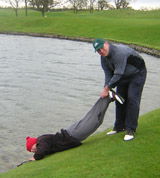 Nick Carter retrieves his ball at the 8th helped by Lindsay Griffiths
"But my round was pretty steady. I didn't do anything silly," he said, confirming that he wants to play in at least a couple more of our London area events.
For MacDonald, a birdie four into wind at the exacting 500-yard, par-5 11th and par at the stroke index one 16th, helped contribute to an excellent 19 points on the back nine.
For several players, their rounds ended ignominiously as they tried to emulate the pros by 'going for the green' over the 200-yard watery chasm that dominates the par-5 17th hole. Most failed but felt 'what the hell, I might never get another chance!'
The longest drive award went to Angelo Esposito from Lamerwood – using his TaylorMade r7 driver, while Tom Roberton, a 12-handicapper from Shortlands GC near Brom;ley picked up the nearest the pin award from the 150 yard 5th.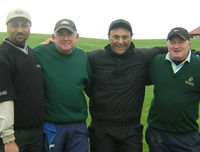 Sajid Bhatti, Michael Varley, Nadeem Sayed and Tim Lenihan




For the rest there were hard luck stories to share over dinner and the promise of meeting up again at some of the other six TaylorMade/Golfmagic Trophy events scheduled from May to October, which are being expertly handled by David Bowler from Incisive Sports event management.

There's still time to join us at one of the next six events.
Results

37 points Shaun Hearmon(handicap 13); 34 Alastair MacDonald (11); 32 David Everett (23); 30 Nick Roberts (4), Michael Varley (15), Tom Roberton (12); 29 David Murthwaite (13), Chris Biggs (10); 28 Bob Warters (10); 26 Eugene O'Sullivan (19), Alan Taylor (14); 25 Nadeem Sayed (6), Mark Vyvyan (11).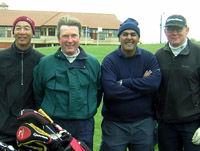 Mark Vyvyan, Peter Kahl, Sal Muhammad and Dave Everett




24 Steve Bendall (11), Peter Kahl (8); 23 Gerry Dempsey (7), Adam Laird (12), Lindsay Griffiths (5); 22 Kate Evans (11), Tim Lenihan (14), Bob Taylor (9), Alan Crofts (12), Neil Trew-Smith (10); 20 Sal Muhammad (12), Adian Fallon (20); 19 Andy Norris (13), Patrick Little (18); 17 Sajid Bhatti (6); 16 Michael Bird (17), Angelo Esposito (8), Nick Harrington (13); 15 Kay Bird (22).