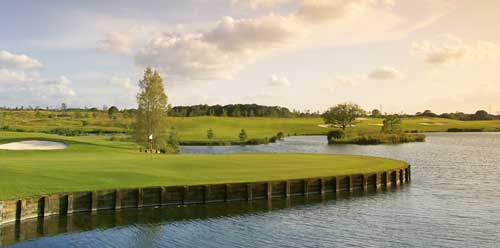 The island 7th green at The Shire (Picture Paul Severn)
On a visit to Augusta National -home of the US Masters - 13 years ago, I was determined to bring back a piece of the hallowe'd turf to grow in my garden, with the slightly deranged notion of it spreading and developing into an area where I could chip and putt on a similar surface to the world famous Georgia venue.
Following round a colleague who'd been drawn from the 800 media to play the course the day after Jose Maria Olazabal won his first green jacket in 1994, I persuaded him to take a giant divot from his approach shot to the 7th green and I would pop it in the dampened plastic bag I had brought along for the purpose.
He duly gouged out an appropriate pelt-like piece of turf (his ball spun back to within a few feet of the hole, incidentally) and having carefully filled in the small oblong crater with green, seeded sand provided on the buggy, I eventually rolled it into a golf shoe and smuggled it back to Blighty.
Sadly, my idea to re-created a piece of Augusta in my back garden never materialised. Although I lovingly tended, watered and trimmed the Augusta divot for several weeks in a plant pot, it was unsuited to harsh English conditions, withered and shrivelled and eventually went to that great compost heap in the sky.



Dogleg 13th hole (Paul Severn)




I recall the story because others, who may be influenced by the fortunes of England and Arsenal, may be tempted to experience a course that the legendary Seve Ballesteros has created just off the A1081 road to Barnet in North London, just to walk literally in the footsteps of their footballing heroes.

Invited by local businessman Tony Menai Davis, to transform the flat and uninspiring former Bridgedown golf course, the Spanish maestro used over one million tonnes of soil from the excavations of the new Wembley and Emirates stadia to help him shape The Shire, his first UK masterpiece, which officially opened this month.

Said Davis: "It's the same site but not one piece of the course is the same as it was. Seve and his team have transformed it and we're thrilled with the result.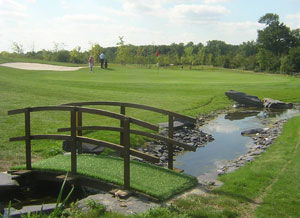 Welsh slate fronts the 14th (Bob Warters)




Asked how he got the five times major winner involved in his dream to provide London with a new world class facility, he said: "He was always my hero and I thought I'd reach for the stars, so I phoned him up. His representatives were here to talk about the project within 48 hours."

It has taken six years from seeking planning permission, for the course to mature but now, with its five minute link from the junction of A1 and M25, it's set to be a major attraction for golfers seeking to challenge the creativity and innovation for which Ballesteros was renowned as a player.

It's a unique mixture, having a course equally divided into six par-5s, par-4s and par-3s but Ballesteros was never orthodox as a player and perhaps sees the longer and shorter holes as opportunities for mid-handicap golfers to use their strokes to better effect instead of being punished by too many unreachable par-4s.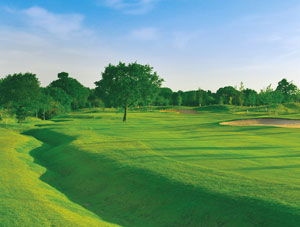 Intriguing 11th hole with tree in the middle of the fairway (Bob Atkins)




But he takes no prisoners with his short holes - five of them demanding well-struck tee shots over water, including the first, fourth and the 7th, which has a deceptively large island green sloping wickedly from left to right.

Only the 12th to a green on a parapet is water free, while the 14th is attractively fronted by a stream flanked by slate from the Festiniog mines in Wales. The 17th demands precise clubbing to clear a finger of lake which dominates the hole.

Of the par-5s, the 11th is the most intriguing - a classic risk and reward hole split diagonally along its almost entire length by a ditch which tempts the longer (and sadly some of us shorter hitters) to go for the green in two, avoiding a tree in the middle of the fairway.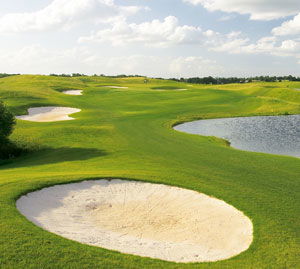 Elevated green of the par-4 second hole (Paul Severn)




The 454-yard 13th is an equally demanding par-5, aiming at bunkers flanking the fairway before turning half-right to consider a 180-yard carry to a heavily guard and elevated green.

Though some of my fellow golfers, also familiarising themselves with the course for the first time this week, were critical of the par-4 second which needs a forced lay-up with a rescue club before the fairway runs into yet another lake, Seve saved his most controversial hole for last.

He and his design team obviously had in mind the chance to put a signature 'S' depicting his name in the form of a lake snaking around the closing hole. But my fear is it could leave a bitter taste in the mouth for those whose tee shot leaves only a medium iron to green still firm and maturing and sloping towards water at the back. Even a 5- or 6-iron, unless struck on a towering trajectory, will tend to bounce on into the hazard.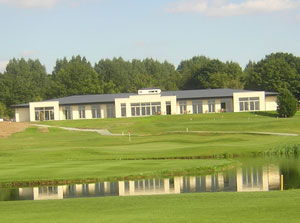 New clubhouse overlooks the 18th (Bob Warters)




The alternative is to lay-up with a wedge, then repeat the shot to hold the green.

But that's being picky about a course which is innovatively designed with immaculate USGA specification greens and tees and beautifully presented by head greenkeeper Tony Peterson and his dedicated team.

And just for the record I replaced my divots (I didn't take any home as souvenirs) and repaired my pitchmarks - together with several other indentations - on each green. The owners may have to invest further in little notices reminding visitors of their obligations with a pitchmark repairer.

With its Italian and Spanish influenced clubhouse, sauna and gym and proposed swimming pool, The Shire is highly recommended and open for introductory green fees at £50 during the week and £65 at weekends (after 1pm).