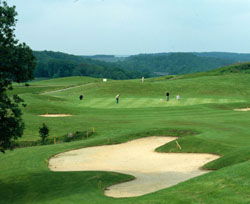 Belgium's Five Nations course.




Think of Belgium and chocolate and tasty Trappist beers spring to mind. Then there's the coastal ferry ports of Zeebrugge and Ostend, the Euro's spiritual home of Brussels and fictional characters Hercule Poirot and Tintin.

After that it's a bit of a struggle, though viewers of Justine Henin-Hardenne's defeat of Kim Clijsters in French Open tennis final on Saturday might have registered that both were, indeed, Belgian.

Until recently the country's self-promotion machinery was still back in the dark ages of the internal combustion engine which, incidentally, was invented in 1860 by John Joseph Etienne Lenoir – another Belgian.

For golfers, however, this land of the black, yellow and scarlet flag, hides a rich emerald seam of 24 eighteen-hole and six nine-hole courses, bordering France, Germany and Luxembourg and matching the finest woodland and meadowland venues in Europe.

Only trouble is it would take the detection of an Inspector Maigret, another sleuth, created by Belgian Georges Simenon, to locate them all.

Like many first time visitors to this shy but classy country, I was naïve about its brave heritage and especially its golf courses but soon discovered that, like the Britons, the Belgians take their golf pretty seriously. They have created venues – especially in the last decade - which they cherish with pride.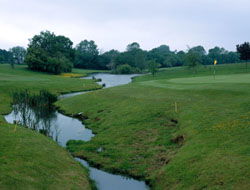 8th green at Pierpont.
Many have converted magnificent Chateau-style homes into clubhouses and transformed surrounding farmland and woodland into 18-hole layouts with breathtaking views from almost every elevated tee.
Yes, despite the initial impression of flat farmland, there are hills as you dig deeper into the country.
My first taste of Belgian-style golf followed a stop-over in the ancient riverside town of Namur, capital of the Wallonia province, with its mighty citadel ramparts. Armies have fought from here since the 16th century and it was perhaps appropriate that we teed off at Pierpont Golf Club, the venue for a European Seniors Tour event, The Wallonia Open.
The links-style course has three holes nestling in the trees beside the historic clubhouse, which in 1815 provided refuge for warring French, Dutch, British and Belgian troops during the pre-Waterloo Battle of Quatre Bras. Its cobbled courtyard and rustic outbuildings are now the centre piece of the club hotel with its 18 rooms and rustic restaurant.
Little survives of the battleground except the ghosts of soldiers that probably patrol the third, fourth and fifth holes and stand sentry beside the 10th and 12th fairways. Locals believe that on still, warm summer nights you can hear distant echoes of canon and musket fire where up to 20,000 troops belonging to both Napoleon and Wellington, fought bloody skirmishes.
It's a windswept venue with challenging, well-bunkered holes the most difficult of which require strong driving and punched approaches into undulating greens.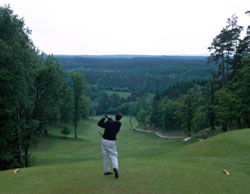 Durbuy's spectacular opener.
An overnight stay at the spectacular Chateau d'Hassonville close to the world famous cheese town of Rochefort, preceded rounds at Five Nations and Durbuy in the heart of the Ardennes. And one thing that strikes you about Belgium is a distinct lack of traffic in the country areas. Despite all main roads being flanked by miles of street lights you can often travel several minutes without seeing another car or van. Spooky.
The chateau with its strutting peacocks, soaring turrets and spires, elegant rooms and exquisite cuisine, is also home to the Rodrigues family who have developed its distinctive hospitality for more than a decade.
Close to the town of Marche en Famenne lies the vast Five Nations Golf Club, holes littering the yawning wooded landscape and some, cut out of the forest, the most breathtaking you'll see. A succession of elevated tees on the front nine tempt you to reach for the driver, while on the back nine, greens are tucked away. Reminiscent of Druids Glen, Woburn and The Oxfordshire.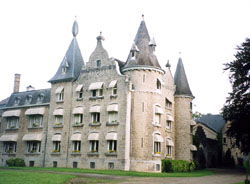 Chateau d'Hassonville.
The par-3 14th, beneath a towering motorway bridge was so steep, a well-struck lob wedge could take you through the back of the green. All the demands and quirks you'd expect from a course designed by a team led by Gary Player.
On to Golf Blue Green de Durbuy, again hewn from the woodland with holes that cascade up and down like a switch-back, testing every club in the bag from driver struck into a blue yonder off the first tee to sand wedges used to escape from sadistically-placed bunkers.
Club president here is Jean-Luc Henry, Belgium's deputy head of tourism and a very useful 18-handicapper who told me : "Our courses are, how you would say, a best kept secret. Football and cycling are still the No.1 sports but golf is catching up with young people. It is very sociable but very competitive. And the whole family can play."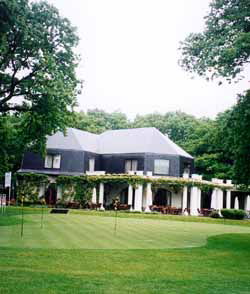 Classy clubhouse at Spa.
No trip to southern Belgium would be complete without a visit to Spa – the town which gave healing water treatment its name. Perhaps best known for the nearby Spa Francorchamps Belgian Grand Prix motor racing circuit and its casino, it is also home to Royal Golf Club Des Fagnes, one of the country's oldest courses built in the 1920s and which has hosted many Belgian Open amateur and professional championships.
A mixture of parkland and heathland, its lush sweeping fairways and immaculate greens make it a target for the world's golfing glitterati, not to mention grand prix drivers and England's soccer team when they stayed at the Radisson SAS Balmoral Hotel during Euro 2000.
Within a short drive is also Henri Chapelle GC with panoramic views over the Ardennes and the Eifel Plateau from its 27 holes of steep slopes and attractive ponds. On a clear day you can see 50k to the twin peaks of Cologne Cathedral in Germany.
The three-hour drive back to the Euro Tunnel at Calais (Liege via Brussels) gives ample time to reflect on Belgium as a yet undiscovered golf destination. There's certainly more to it than beer and chocolates, detectives and inventors.
Its golf courses are immaculately kept and beautifully positioned. It's just that, like its famous detectives, you have to sift carefully through the evidence before discovering its mysteries.
FACT FILE
Courses
Club de Pierpont, Grand Pierpont, 1, 6210 Les Bons Villers (Tel: 0032 71 851775): Green fees E30 (weekends E60). Closed on Mondays (Tuesdays in November).
Five Nations Golf Club, Chateau-Ferme du Grand Scley, 5372 Mean (00 32 86 32 32 32). Green fees E35 (E45) E5 discounts for Seniors.
Golf Blue Green de Durbuy, Route d'Oppagne, 34, 6940 Barvaux-Durbuy (00 32 86 21 44 54). Green fees E38 (E50). Winter rates E27 (E35).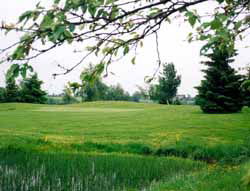 Lush Henri-Chapelle GC.
Royal Golf Club des Fagnes, Avenue de l'Hippodrome, 1, 4900, Spa (00 32 87 79 30 30). Green fees E60 (E67). Winter rates E40 (E46).
Golf and Country Club Henri-Chapelle, Rue de Vivier, 3, 4841 Henri-Chapelle (00 32 87 881991. Green fees E19 (E25).
For further information about golf in Southern Belgium contact Belgian Tourist Office (Brussels and Wallonia) 217 Marsh Wall, London E14 9FJ (Tel: 0207 7531 0390)

If your interested in golf abroad then take a look at our Travel Partners who specialise in golfing breaks to European and Worldwide destinations.