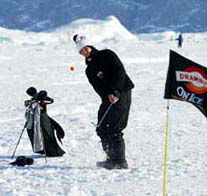 Chipping on ice.
Next time you're thinking of organising a day out for your mates or planning a venue for your society – spare a thought for Scottish golf sponsors Drambuie.
They needed a change of destination for their 5th World Ice Golf Championship next April and the criteria were quite demanding to say the least.
*A guaranteed course on permanent ice
*Visually stunning surroundings
*A remote location but still able to deliver a first class golf and hospitality facilities.
It was a tough assignment – until the organisers sought the advice of Pen Hadow, one of the world's leading polar explorers who has trekked the world's glaciers and polar ice caps in search adventure. He came up with the remote Arctic Island of Spitsbergen part of a group of Islands that make up the area of Svalbard, in Norway's northernmost territory. This Arctic expanse is filled with fjords, river valleys, jutting peaks and stunning glaciers.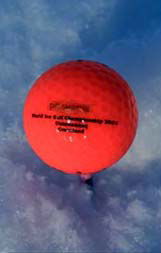 Orange balls only in iceland.
Sadly the 2003 event, in Greenland, had been cancelled due to freak conditions, but Drambuie was determined the 2004 event should go ahead, whatever the weather. After months of in-depth research to the most far-flung corners of the world including Alaska, Siberia, The Northern States of Canada, Iceland, Norway and Greenland, Hadow revealed that in his opinion Spitsbergen was an ice-golfers dream.
The 18-hole golf course will be designed, created and played on the stunning ice fjord, as the dramatic Arctic sea freezes over revealing an expanse of ice field, near the town of Longyearbyen. For the competitiors it will be like a small ski resort – in the middle of untamed, harsh but magnificent scenery where polar bears roam free and temperatures can dip to a staggering - 30 degrees celcius.
Indeed in this land of remote settlements 'security' will be needed to line the 'fairways' and fire warning signals if any bears get too close.
Hadow commented: "This was a really interesting project. I have enjoyed using my expertise, having travelled widely throughout the polar region, to help Drambuie in it's search for a classic polar golf course."
The tournament is a 36-hole stroke-play competition played over two days (April 3/4) preceded by a Ryder cup –style matchplay event.
The last time it was played, in 2002, it was won by Scottish-based European Chellenge tour pro Roger Beames.
If you've played in stranger places then let us know on the forum.

If your interested in golf abroad then take a look at our Travel Partners who specialise in golfing breaks to European and Worldwide destinations.