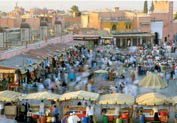 Marrakech's bustling square
One holiday company claims to have come to the rescue of the archetypal 'golf widow' – often the female of the species constantly plagued by the demands of a male partner for whom life revolves around golf.
Specialist travel operator 'The Independent Traveller' has introduced 'women-only holidays' for those scourged by their other half's constant pursuit of golfing perfection.
The company offers groups of like-minded individuals, to try exotic destinations, stay in quality accommodation, and experience the culture of each country first-hand through activities and experiences.
The first tours take place in September to Marrakech and South Africa, with others provide women with once-in-a lifetime opportunities, including polar bear watching or the chance to cuddle a Harp seal in Canada, go trekking on wildlife safaris or visit the National Women's Commission in Nepal.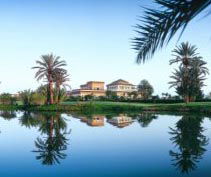 Golf at Palmeraie Palace
Says IT's Rosemary Sloggett: "We believe a gap in the market has been filled by our stimulating women-only holidays - especially appealing to those 'widowed' by the irresistible attraction of golf by their partners .We provide a break for them while making the world more accessible for women with a need to travel independently." For more information call 0870 760 5001.
Marrakech is also the destination for the new budget airline Atlas Blue currently flying four times a week from Gatwick to the five-star five star Palmeraie Golf Palace hotel in the Moroccan city.
It's an ideal spot for a golfing weekend away, with three-night weekend packages in April and May with Exclusive Golf starting at £515 per person. Price includes return flights, bed and breakfast, two rounds of golf or two spa treatments and a complimentary dinner in the Narjis restaurant. Contact 0870 870 4700.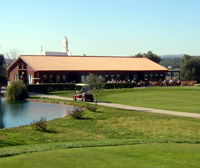 9th green and clubhouse at Benamor
If you haven't sampled the spectacular, yet undiscovered courses of the East Algarve, the Golfmagic's International Am-Am set for October 12-16 will be a fabulous introduction.
The team event - we're looking for teams of four (men, women and mixed), pairs or even individuals, whom we can match up into teams - is being staged around the town of Tavira – less than 25 miles from Faro, where the Hotel Vila Gale will act as tournament headquarters for a three-day tournament on the manicured courses at Quinta da Ria, Benamor and Quinta da Cima.
Cost of the package is £399 which includes golf, four nights B&B accommodation, drinks reception and gala prize-giving dinner.
For a free brochure and booking form plus detailed itinerary, email: golfmagic@olyogolf.co.uk with your name,address and telephone number.
A new high-speed channel crossing from Portsmouth's Continental Ferry Port has been introduced offering the chance to reach French golf courses in double quick time.
The respective 180 and 225 minutes crossings to Cherbourg and Caen will be operated by Brittany Ferries' state-of-the-art craft, Normandie Express - the largest of her type on the Channel.
Port manager, Martin Putman, said: "With our hectic lives and busy work schedules, more people are opting for short breaks as well as longer holidays. The high-speed service makes the continent far more accessible. Golfers especially, can spend less time travelling and still enjoy the advantages of taking their cars to explore stock up with French goodies they may want to take home."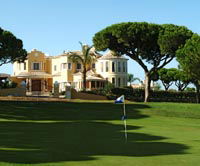 Sample of Vale do Lobo properties
Three golf destinations have been awarded gold, silver and bronze titles in the latest Home Overseas magazine awards.
Canada's Humber Valley Resort on the west coast of Newfoundland with a splendid 18-hole course set in pine forest won the gold award with Aphrodite Hills - a £170million purpose-built leisure estate claiming silver.
Bronze went to Vale do Lobo, the first development in the Portuguese Algarve, founded in 1962.
The judges commented on its beachfront location and excellent and well-maintained golf facilities.
Best Western Ullesthorpe Court Hotel & Golf Club in Leicestershire have included a five day break over the May Day bank holiday (May 2-6). The hotel features 38 en-suite rooms and is in a 120-acre estate with its own 18-hole course.
Prices start from £260 per person based on two sharing a room and include four nights accommodation, breakfast, dinner, unlimited golf and use of the hotel's leisure facilities. For more information visit www.bestwestern.co.uk/hotelsforgolf or call 0845 33 00 120.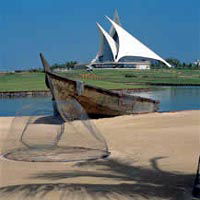 Spectacular Dubai Creek
Former Ryder Cup
captain, Sam Torrance is promoting the inaugural ChildLine Gulf Challenge, to help raise money for the UK's free, 24-hour helpline for children in danger or distress.
Teams of four are needed to take part in the challenge at the newly re-furbished Dubai Creek Golf and Yacht Club, from September 14-18.
Cost of the package is £2,750 per person, which includes flights, transfers, accommodation at the Dubai Jumeriah Hotel, golf at Dubai Creek and Arabian Ranches, welcome reception and celebrity gala dinner. For further information and bookings call 0207 650 3385
If you fancy a last minute trip to the US Masters at Augusta, you still can with St Andrews-based G & L Tours.
Guests will stay at the AmeriSuites Hotel three miles from Augusta, Georgia and receive exclusive entry badges to four full days of the year's first major tournament. Price of the package, including flights and transfers from April 4-11 is £3,395 per person based on two sharing or £4,075 per person for single occupancy.
For further information visit www.golfandleisuretours.com or call 01334 850 111.
If your interested in golf abroad then take a look at our Travel Partners who specialise in golfing breaks to European and Worldwide destinations.