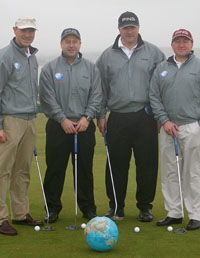 From the left: Adrian Cleevely, Basil Bielich, David Dean and Brian Kelly.
Four amateur golfers will attempt to set a new Guinness World Record next week by playing golf on six continents in six days.
Led by Isle of Man businessman Brian Kelly, the fourball will tee off in Cairo at dawn on January 26 then travel to Singapore, Sydney, Santiago and Miami, before completing their epic journey on their home course, the Castletown Golf links on the Isle of Man on January 31.
Never previously attempted, it involves more than 30,000 miles of air travel as well as 108 of the world's toughest golf holes. This Global Golf Challenge is supported by the Isle of Man Government and will help raise funds for the island's Commonwealth Games team to compete in Melbourne in March 2006.
The challenge is the brainchild of Kelly, 44-year-old owner of Mann Link Travel and account Ramsey Golf Club member Basil Bielich(42), a fellow member at Ramsey (Isle of Man) Golf Club.
The pair got the idea for their journey when they ran alongside Sir Ranulph Fiennes in the New York marathon during his successful bid to compete in seven marathons on seven continents in seven days.
They will be joined by David Dean Adrian Cleevely.
To be officially recognised by the Guinness Book of Records, each PGA-recognised course must be 18 holes and at least 6,000 yards in length. Sadly, with no course meeting the criteria in Antarctica, the golfers' challenge must be confined to Europe, Asia, North and South America, Africa and Australasia.
Crossing the international dateline means that the players will play in Australia and Chile on the same day despite completing a 15-hour transfer!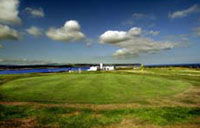 Castletown Links
The punishing schedule reads: Day One: 06.45 - Mirage City Golf Course, Cairo, Egypt, 13.20 - fly to Singapore. Day Two: 07.15 - arrive Singapore, 09.30 Serapong Golf Course, 20.30 -fly to Sydney, Australia. Day Three: 06.35 -arrive Sydney, 10.00 -New South Wales Golf Course, overnight in Sydney, Day Four: 10.45 - fly to Santiago, Chile, 12.20 -arrive Santiago, 14.45 - Club De Golf Brisas De Chicureo, 22.35 - fly to Miami, USA. Day Five: 05.05 - arrive Miami, 11.00 - Doral Blue Monster Golf Club, 17.10- fly to London Heathrow. Day Six: 06.20 Arrive London Heathrow, 08.00 - fly to Isle of Man, 10.30 - tee off at Castletown Golf Club.
The Isle of Man Commonwealth Games Fund is attempting to raise £250,000 during 2005 to help finance Isle of Man athletes' preparation for the Melbourne Games.
Have you ever attempted a golfing marathon or done something daft while pursuing your passion for golf. Tell us on the forum.

If your interested in golf abroad then take a look at our Travel Partners who specialise in golfing breaks to European and Worldwide destinations.