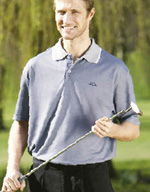 Silky feel shirts from Aldi
http://www.aldi-stores.co.uk/Aldi, the discount clothes store found in most major towns aims to make an impression with golfers with its colourful range of golf clothing and practical wind tops and waterproofs at affordable prices.
Its men's polo shirts (£5.99) in a silky modal/polyester fabric are available in blue with a black/stone stripe for men and raspberry/navy for women.
The stretch/water repellant trousers (£6.99) made from 97% cotton come in a choice of black and stone for men and navy blue for women.
Aldi also stocks weatherproof suits at just £12.99 - including full zip jacket with air vent and velcro front and trousers with elasticated waist and zip pockets and trouser leg fastenings. Made of polyester, they're available in fuschia/navy for women and black/charcoal or navy/sand for men. A sleeveless teflon-coated windbreaker (£6.99) is available in raspberry for women and stone/navy for men.
Other accessories include golf socks (£2.99 for pack of two), Cabretta leather golf glove (£2.99), 50 golf balls (£14.9) and a 90-minute David Leadbetter instructional DVD (£3.99).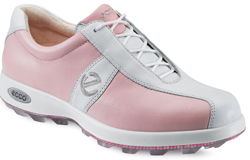 Pink shoes from Ecco
At the other end of the price scale, Danish shoe specialist Ecco plans to introduce a pair of £250 shoes, as worn by Colin Montgomerie. The GTX is available in either white or black and the wing tip GTX in black/white, both with Gore-TEX waterproof membrane.
A versatile spikeless golf shoe for women is also planned from Ecco with match upper and sole in white or light rose - that's pink, to you!
Costing £75, the lightweight shoe has a Cambrelle – lined inlay sole to keep the feet cool.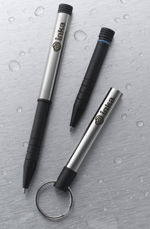 Inka pen




Two new pens for golfers are on the market for marking your card and individually identifying your ball.

The Inka is designed to write in all conditions - even under water it is claimed - at any angle, any altitude and even in extreme temperatures and will write legibly even on the wettest of score cards.

Watertight and compact it can be attached to you or your bag and costs £14.95. Call 01539 721032 for your nearest stockist.

Meanwhile the Sharpie, a celebrity sportsman accessory for those tiresome autographs, is now available as a retractable pen or as a Sharpie Mini with a detachable cap and clip from around £1 each.

Available in 12 distinctive colours, it is the ideal implement for marking golf balls with your own identity to avoid disputes. Recent innovations include the Sharpie Chisel Tip, a permanent marker with both broad- and fine-line capabilities, Twin Tip, Fine Point, Extra-Fine Point and Sharpie Ultra-Fine Point.

Sharpie markers can be found throughout in all good stationary stores.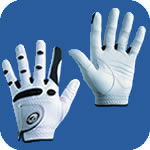 Bionic golf gloves




Because of hand problems like arthritis and inflamed joints golfers in the US are turning to theraputic Silver golf gloves from Bionic, a leading company in glove research, design, and technology.

Over 95 percent of testers claimed the gloves eased hand fatigue and pain while playing golf, thanks to Bionic's has a patented anatomical pad system that evens out the surface of the hand 'filling in the valleys between finger joints' to helps offload sore and swollen joints and reduce discomfort when the club impacts the ball.

One Texas tester claimed: "You don't have to grip the club as hard so you have more control and better distance. I was able to hit my driver approximately 15 yards further."

Made from fine cabretta leather, they can be bought on line as single left or right-hand gloves (£14.99) or as pairs (£29.98) from www.bionicgloves.com Versions of the gloves can also be used for riding and gardening.

*We want to know about the clothes, gloves and shoes you wear on the golf course - as well as the balls and clubs you use. Submit auser review for the chance to win prizes every month.

Golfmagic has over 3,500 items of equipment reviewed golfers within its system, many of which others use to consider their purchases. Most, too, can be bought from our shopping partners, which are listed on the left-hand side of every page.

And if you've got equipment to buy or sell second hand you can do that too, in our popularclassified section.