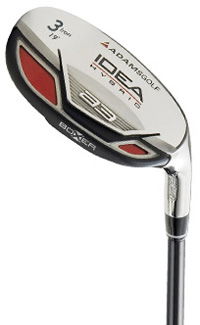 Stylish Adams a3 hybrid
With its original Tight Lies rescue clubs among the fore-runners of square head technology in the 1990s, Adams Golf has become a leader in the hybrid iron revolution. Nowadays almost every club player has at least one rescue-style club in their bag.
Determined to retain its spotamong the hybrid pioneers, Adams Golf is launching its new Idea a3 Hybrid irons with Boxer Technology and UK golfers can expect to see them available in mid-June.
Adams claims breakthrough shaping and a Moment of Inertia (MOI), which is up to 70% higher than other hybrids in its class to keep the head stable at impact of the 3-, 4- and 5-hydrids. A transitional mix of two hollow-back mid-irons (6- and 7-iron) and three cavity-back short irons (8-, 9-iron and pitching wedge) completes the set.
Gap, sand and lob wedges will be sold separately.
Expect to pay around £500 for a set of eight steel-shafted A3 Idea hybrids and irons, and £600 for graphite. Regular stiff and X-flexes will be available for men with alternative hybrid/iron and shaft combinations for women and seniors.
*Tell us what hybrids you carry in your bag - as well as the balls, shoes, waterproofs. Submit auser review for the chance to win prizes every month.
And if you've got equipment to buy or sell second hand you can do that too, in our classified section.