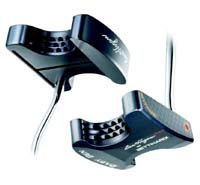 Ben Hogan Baby Ben putters
A Bettinardi putter, similar to that which Jim Furyk used to win the 2003 US Open, is being launched by Ben Hogan Golf and will cost £150.
The hour-glass-shaped Baby Ben prototype helped the American hold the rest of the world's best players at bay at Olympia Fields for his first major title and now it will join the popular Big Ben and the CC Series putters in a golf shop near you.
Designed using elements found in the established Big Ben putter, the smaller Baby Ben head is milled from a block of aluminium and features a unique alignment and the exclusive Beehive centre cavity which promotes acceleration through the hitting area. It has a heel-shafted design and is available for right-handers only.
The Big Ben Series has already won awards for innovation and with its aluminium head and Beehive system, allows 38% of the head's total weight to be positioned behind the ball for easy pendulum acceleration. It has a T-shaped alignment aid and is face-balanced. The Big Ben is available in right-handed standard length and as a belly putter with a suggested price of £175.
Crown jewel of the Ben Hogan by Bettinardi putter line, is the CC Series featuring a carbon steel head and a 24-karat gold-plated copper insert for soft feel and durability. This right-handed putter will cost £250.
For your nearest stock call 01954 786600 or visit www.benhogan.com