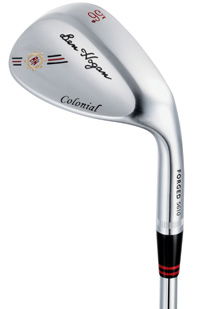 Ben Hogan Colonial wedge
Ben Hogan once said: 'The secrets and the answers to golf are in the dirt." Presumably he meant that success was likely to be found more off the green than on it.
Fifty years after Hogan's triple major victory in one season, Jim Furyk used a prototype Ben Hogan Colonial forged wedge to win the US Open. Now a series of these wedges have been released for club golfers.
'The design elements of the Colonial wedges came directly from popular wedge characteristics that appeared in many of our Tour Pros' bags,' says Top-Flite/Ben Hogan's Ian Stringfellow. 'Colonial wedges feature softer lines and profiles along with increased offset for the shot making control preferred by better players.'
The makers claim the Colonials have maximum-width, U-shaped grooves to generate spin and greenside control with a forged 1020 carbon steel construction for soft feel.
They're available in six loft and bounce angle combinations, with a special 'pulled heel' trailing edge grind for versatility from all types of turf and sand. This allows the leading edge to sit close to the ground when laying the blade open.
The Ben Hogan Colonial wedges, with a satin chrome, non-glare finish, will cost £100.00 each.