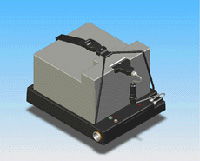 Charger fits in the boot of your car
Millions will have seen representatives of Dublin-based Caddy-Motion - makers of a revolutionary in-car golf trolley battery re-charger offered support by two millionaire entrepreneurs for their innovation on the BBC television series Dragon's Den.
Backing was eventually rejected because the potential investors demanded too big a share of the company. However, the inventors are pushing ahead with their product and have received tremendous feedback from golfers who see an end to the inevitable carrying of the battery to and from your car to re-charge it each time you play.
Discreetly installed in the boot of your car, the Caddy Motion charges as you are driving a cradle with straps to keep the battery secure features two indicator lights that inform the driver of the state of the charge. It also controls the amount of charge that the battery receives and eliminates any overcharge or overheating of the battery.
The Caddy Motion (Euro129) can be purchased at many golf equipment retailers, golf trolley dealers or direct from www.caddy-motion.com.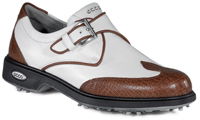 Elegant Ecco Wing Buckle shoes for women




Danish golf shoe makers Ecco is introducing yet more shoes to its burgeoning range for male and female golfers.

Latest for men is the Flexor Hydromax golf shoe with a smooth leather base offset by patterned Lizzard leathers to create a sharp look and a perspiration resistant feel and fit. They're available in coffee, black and white/titanium/black options, priced at £130 per pair.

Equalling appealing is the new Ecco Women's Wing Buckle featuring crocodile printed high-grade leathers, and a stretchable buckle clasp. The elegant shoes are available in Cognac/White, Black/White and ice white/white colour options (£90).

Ping Collection clothing is launching its first button-down golf shirt in either black, chalk blue or fusion pink - a combination of polyester and woven spandex it moves with the body in full swing and wicks moisture away when the heat rises. Ping says the shirt (£36) will serve as a fashionable accessory both on and off the course.