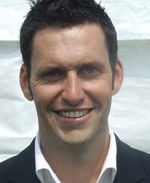 Stuart Johnson
For those who spread doom and gloom about the golf industry - that it's becoming too dominated by major brands churning out equipment with minor cosmetic changes presented as 'innovative and ground-breaking' and that e-Bay is a four-letter word giving golf a bad name - a new company is about to deliver a breath of fresh air.
ORKA Golf is the brainchild of Englishman Stuart Johnson, a sales, design and marketing entrepreneur based for much of the year in Sydney, Australia, where the company is launching simultaneously. Johnson has an extensive background in the development of outsatanding golf equipment and culminates the last 15 years of sales, design and marketing experience with ORKA golf, having been marketing sdirector for one of the most acclaimed UK brands in recent years.
His vision is 'to provide outstanding custom made golf equipment at an affordable price while offering an unparalleled level of service'. He's building a team of custom-fitters around the UK and Europe to deliver clubs - from square drivers to heel-toe weighted putters - ordered directly from the company's website (launching in July) and via the fitting centres.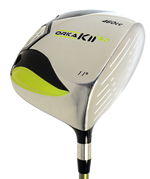 ORKA's K2 Sd square driver




It's a unique strategy because most top brands place a premium on selling their products to retailers via on-course and range pro shops, major outlets and mail order, who in turn can provide a fitting service as required.

ORKA, says Johnson, is different in that from July 1 it will sell online direct to the customer, offering probably the widest range of shafts, flexes, grips, lofts and lies - factors, he says that 'can totally change the performance of your clubs and bring down your scores.'

He gives the analogy that a tailored suit fits far better than one bought 'off the peg' - and the same is true with golf. Equipment measured personally for you is going to allow you to play far more consistently to your best.

First, however, he recommends customers visits one of ORKA's hand-picked custom clubmakers, which he is hoping to eventually locate in every county, to enjoy the experience and see the difference in your game.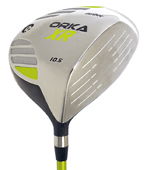 The K2 traditionally shape driver from ORKA




Among them is Clive Crisell, one of Europe's finest clubmakers for over 25 years and formerly head of training for Golfsmith and now heading up the custom fit side of ORKA in the UK. He has acted as a technical advisor to many leading brands and fits clubs for leading amateurs and Tour pros from his Essex workshop.

I had the privilege this week of being among the first to try out ORKA's latest range of drivers, fairway metals, wedges and irons and was impressed by their variety and quality, despite price points for both square and traditional drivers of under £170 (depending on component options).

Full pricing will be confirmed in July but for example the K2 SD is not only square but also features interchangeable weights to help deliver a ball flight to suit each golfer. Customers can expect to pay on average between £170 and £150 depending on the shaft. You can even buy the head on its own from the appointed custom-fit centres and have your favourite shaft fitted.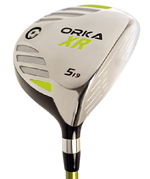 The XR fairway metal with its distinctive 'footprint'




Traditional-shaped 460 cc drivers (K2) are similarly priced with interchangeable weights, while XR drivers, with a large, streamlined sole are available at either £149 or £99 depending on the shaft required, including the custom-fit session.

The K2 and XR fairway metals have moveable weights or large, footprint soles respectively, costing well under £100. Hybrids also provide a stylish alternative in a range of lofts.

I particularly enjoyed hitting the forged FK2 wedges (three lofts). Trajectory was high and the feedback delicious.

The FP3 forged irons (£399 for 3-PW) with cavity and slight muscle back looked as classy as anything I have seen at twice the price, while the K2 CTi cast irons at (£299, 3-PW) delivered a solid feel and penetrating ball flight.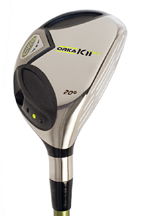 K2 rescue hybrid




"ORKA is for passionate golfers of all levels who do not feel they need to be defined by the cost of their equipment, but rather the quality," says Johnson, who has pledged that 10 per-cent of profits will be provided for charitable causes every year.

For more information on ORKA Golf and to see its full range, visit www.orkagolf.com

There's a great chance for Golfmagic members to win a golf break to play on the Brabazon course at the De Vere Belfry if you tell us about the equipment you're currently using. By submitting a user review you could share this opportunity with a companion in the competition sponsored this month by Cuprinol garden products.