Benross Golf, the Weybridge-based, award-winning club distributors is launching seven new products, hoping to build on its outstanding 2004 successes.
Its drivers, fairway metals, utility clubs and irons have all received accolades in the past and now the company says it plans to take its equipment to higher levels.
The combination of the 460cc head and Graffaloy Pro 65 shaft as standard could make the new V12 driver top of its class among clubs priced at £99, while the last V8 Compressor (£149), says Benross, has an enlarged 440cc head generating a longer 'rainbow-style' ball flight.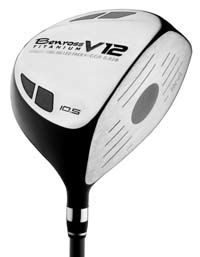 New V2 driver
Fairway metals have always been a strength of this burgeoning company and the new S-4s (£69) are set to make an impact among golfers looking for a confidence-inspiring club to get them out of trouble and find those previously unreachable two-shot par-4s and 5s.
Benross's VX2i-Combo irons were among the easiest to hit of the dozens we tested last year and now, in line with the fashion for utility clubs to replace long irons, have been updated with the VXCombo shorter-shafted, thicker-headed hybrids to replace 3-, 4- and 5-iron. Cost will be £329 for the set.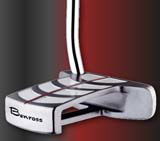 Distinctive Ripple SR putter
For those newcomers to golf with more austere tastes, the latest VX10 irons have been developed to appeal to those looking for forgiveness, a higher ball flight and a budget under £200.
The popular Ripple putter also has a new mate in its stable – the unique-looking Ripple SR (£59) with emphasis on alignment and a red paddle grip.
Completing the Benross facelift are a range of bags including the Zephyr (also a women's version) for trolleys and the Hurricane, Mistral and Breeze carry/stand models.