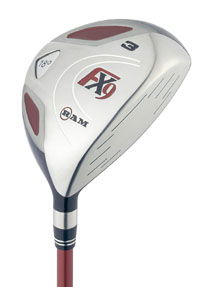 Versatile FX9 fairway wood
Following the successful launch of its FX9 driver, Ram is introducing a range of complimentary fairway metals under £70.
From +3-wood to 9-wood, these versatile clubs are fitted with regular or stiff True Temper grafalloy shafts.
Ram's UK managing director Graeme Stevens, says the FX9 fairway metals (£69) are designed to deliver 'a perfect blend of stability control and distance' and feature a carbon-graphite crown, forged stainless steel clubface and cambered sole to cope with any type of lie.
'The development of the FX9 driver has allowed us to design a range of lead fairway woods that perfectly compliment its characteristics,' he says. 'By employing many of the same clubhead and shaft technologies we are able to deliver the longest, most forgiving fairway wood we've ever produced.'
He also adds that Ram has addressed the specific needs of women golfers with special fairway woods that feature a more compact head and are fitted with a lightweight graffaloy shafts to encourage faster swing speeds required for greater distance. The 9-wood in the range is tailor-made for them, too and there are left-handed versions in all lofts.
For your nearest stockist call 01895 813 613.