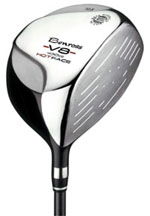 Benross V8 hot face driver
Benross is fast emerging as a burgeoning golf equipment brand for those with a limited budget but keen to impress their mates and improve with new gear. Based in stock-broker belt Chertsey in Surrey, Benross is handily placed to spread its word and its products to golfers in search of quality yet at an affordable price.
Following the success of its award-winning Spring Steel II fairway metals and VX2 irons, Benross has updated its products with stunning drivers, irons and its distinctive Ripple putter.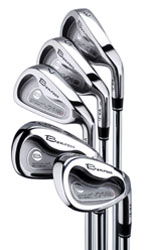 Benross VX-2i irons.
At just £149 the Benross V8 Hot Face titanium driver is a chunky-looking big brother to the V6 driver, with its 430cc head and enlarged sweet spot. The makers claim it's one of the easiest drivers to hit.
Similar in its sleek lines, the V6 Compressor driver cost from £169 and promises a steeper launch angle, reduced spin and lighter shaft.
Some voters in a national poll reckoned it would be tough to improve on the VX-2 irons for under £350 but Benross reckon they've done it with the VX-2i irons at £249 (3-SW). The clubs have a thinner top line, re-shaped head and produce more power and control. Add £50 if you want graphite shafts.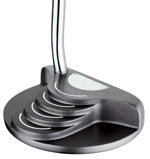 Benross Ripple II SE putter.
Benross raised eyebrows with their stepped Ripple putter last year, now they've been given a new look, too. The Ripple SE I and II have a softer insert and different colours. The SE putters cost £59.
For further information call 01932 877501 or visit www.benross.co.uk