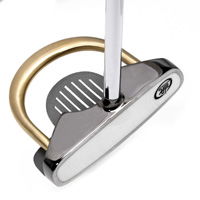 Top-Flite UFO
Top-Flite has introduced a new range of putters, including one name the UFO, which makes the Scotty Cameron Futura look like a relic of the Bronze Age.
This putter looks more like a large padlock and is centre-shafted, say the makers, to help improve a player's posture and make alignment easier. Top-Fliter claims its unique design, with a brass loop at the back, allows for better weight distribution and better stability to assist in accelerating the putter head through the point of impact.
A soft polymer face offers 'improved feel.'
Available in a right hand model only, the UFO putter has a suprisingly realistic suggested retail price of £50.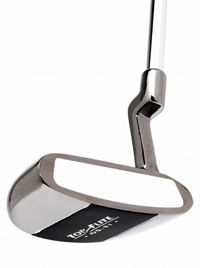 Top Flite OS-01 mallet.
Top-Flite has also produced OS-01 mallet and PS01 heel-toe weighted models. The OS-01 putter offers more weight behind the ball and features a stainless steel head satin chrome finish and a soft polymer face. The PS-01 is an off-set designed. Both will cost £30.
For golfers seeking a cheaper alternative, Top-Flite has produced the MS cast putter for £19.99.
For further information visit or for your nearest stockist call 01954 786600.