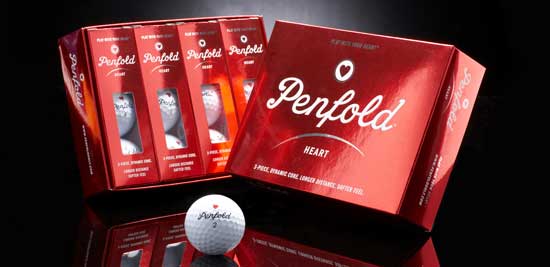 Commemorative packs of Penfold Heart balls
The golf ball with the heart logo made famous by the 1967 James Bond film, 'Goldfinger' is making a comeback. Limited editions of the ball used by the 007 character, played by Sean Connery, are being sold in presentation gift sets of a dozen for £50.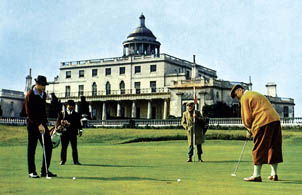 Bond and Goldfinger putt out at Stoke Park.




The revival of the Penfold Heart ball - used to defeat arch-villain Auric Goldfinger in a round of golf played at Stoke Park - celebrates the centenary of the birth of Ian Fleming, the creator of the Bond films.

During one scene Goldfinger, with the sinister OddJob as his caddie, tries to trick Bond into thinking his is the winning ball which Bond rejects with the famous line: "Mine's the Penfold Heart."

As a result, orders for the distinct, Birmingham-made model of ball poured in after the release of 'Goldfinger' and players like Gary Player, Seve Ballesteros, Nick Faldo and Curtis Strange used it in tournaments.

Famed for the playing card suits stamped on them Penfold balls first emerged in the 1920s and the Penfold figurine of a golfer with pipe and plus fours (based on the son of company founder A. E. Penfold) was a familiar ornament in the golf pro's shop window. Later the brand sponsored major tournaments, with the first staged at Royal Porthcawl in 1932.

Commissioned to make 007 golf balls for a charity match at Royal St Georges last year, this encouraged Penfold Golf to re-instate the famous Heart balls, hence the launch of collector's sets, from which a donation will be made to The British Heart Foundation.

"Each comes in a commemorative slipcase, with a sequentially-numbered card to validate its authenticity," explains Penfold Golf director, William Baird, who has guided the manufacture of golf balls for 30 years.

"We are anticipating demand from both golfers and Bond fans, as both Penfold and 007 have a quintessentially British appeal," adds Baird.

To purchase a collectors' set log on to www.penfoldgolf.com

Tell us on the forum if you've played a Penfold golf ball.