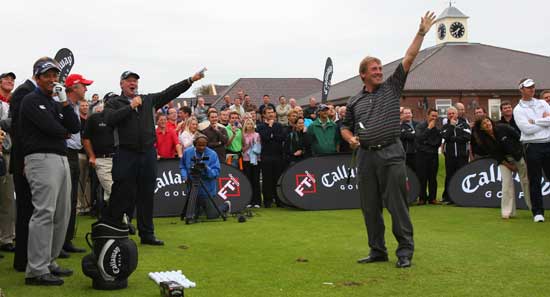 Kenny Dalglish makes a guest appearance at Callaway skills shoot-out
Callaway Golf pros, set to compete at this week's Open Championship went head-to-head in an event to showcase the company's technology and products.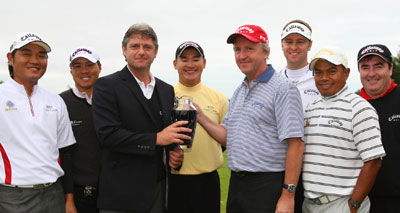 Callaway Europe boss Neil Howie presents the jug of claret to ROW captain Ian Muir watched by (from the left) Chia, Bing, Que, Jones, Marksaeng and Parry.




Guests from golf retail and the media were treated to a golfing masterclass at the Formby Hall hotel as a team of European Tour pros, including new Barclays Scottish Open champion Graeme McDowell, took on a Rest of the World team in a Ryder Cup style match for a 'Jug of Claret'.

The skills clash also included guest appearance by Liverpool and Scotland football legends Kenny Dalglish and Alan Hansen.

Despite facing a line-up of European Tour heavyweights, including 2005 US Open champion Michael Campbell, Ryder Cup star Niclas Fasth, and Tour young guns Nick Dougherty and Oliver Wilson, the Rest of the World came out on top 11 points to eight.

Aussies Craig Parry, given the honour of hitting the first tee shot in The Open at Royal Birkdale tomorrow morning, and Brendan Jones were joined by Malaysia's top golfer Danny Chia, long hitter Lam Chih Bing from Singapore, Philippine Open champion Angelo Que and Thai World Cup player Prayad Marksaeng.

After a closely fought 75-yard pitch shot challenge featuring Callaway's X-Tour wedges, X-Forged and X-Prototype irons provided the ammunition for Jones to hold a perfect 6-iron into a cross breeze, and finish within a few feet of the flag tod give his team the edge.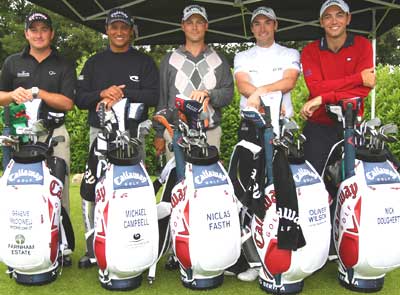 From the left:Graeme McDowell, Michael Campbell, Niclas Fasth, Oliver Wilson and Nick Dougherty




Finally, Oliver Wilson unleashed a 291-yard tee shot with an FT-5 driver but it wasn't enough to prevent the Asian Tour players responding with a series of powerful, penetrating drives with Fusion drivers and claim to claim the crystal of jug of claret.

Callaway staff were particularly delighted that McDowell turned out for the challenge after racing down from Scotland, having claimed his Loch Lomond title the previous night.

"To win was a real door-opener for me," said Ulsterman McDowell (28), now second on the European Tour order of merit and virtually guaranteed a Ryder Cup spot.

"It certainly takes me a massive step towards The Ryder Cup team, which has been a dream this year. I really wanted to make it a multiple-win season – and I've done that."

As well as peppering Loch Lomond flagsticks with his X-Forged irons, Fusion driver and Tour iX Ball, McDowell also played a Callaway X Fairway wood, FT hybrid, X-Tour wedges and Odyssey White Hot XG putter.