| | |
| --- | --- |
| Callaway's X-22 | Callaway's X-22 forged |
Look out for a new series of irons from Callaway Golf in the New Year. The latest X-22 and X-22 Tour irons were launched at the Golf Europe trade show in Munich last week and are set to have golfers drooling.
Distinctive with a sculpted cavity back, the X-22, says Callaway, has been designed to enable golfers to take dead aim with confidence, thanks to its forgiving properties which allow off-centre hits to fly longer and straighter.
This has been achieved in part by enhancing precision notch-weighting to maintain a low centre of gravity to propel the ball airborne more efficiently.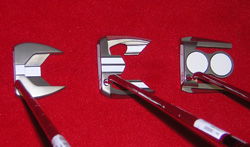 From the left:Hawk, Teron and F7 2 ball putters
The X-22 Tour irons, which have also been designed by roger cleveland will appeal to the aspiring golfer able to handle a refined head, narrow sole and a thin top line. ther X-22, currently used by Rocco Mediate and Phillip Price also feature a stylish satin finish.
Callaway says it has also refined its X-Forged irons for 2009. they have been re-shaped with progressive weighting to improve ball control and deliver a slightly higher ball flight.
In April Callaway will introduce the Diablo iron and Diablo hybrid to complement its sensational Diablo driver revealed last week.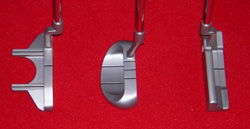 From the left: Crimson series, 770, 550 and 660 putters by Odyssey
Odyssey has had outstanding success in its putting range including its award-winning XG-7 and plans to be even more stylish with its putters in 2009 without losing its heritage, with the emphasis on alignment and accuracy.
Among the new ones in the premium-priced range are the the White hot XG Hawk (£99), White Hot XG Teron (£139),and the White Hot XG F7 (£229) and cross between the Sabetooth and a 2-ball. Callaway has also introduce a Crimson range of £99 putters - the 770 Sabretooth, the 550 Mallet and 660 Blade, also available in left-handed versions.