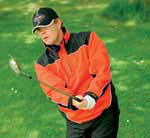 Joakim Haeggman – the face of Galvin Green
Swedish golf clothing and waterproof manufacturer Galvin Green claims it has taken apparel to an even higher level by launching a range of its multi-layer system, to keep golfers dry, warm, cool and fresh whatever the weather.
Layers of clothing protection have, until now been the preferred way of keeping the elements at bay but Galvin Green says it has used a 'new generation of high–tech materials' to avoid inhibiting golf swings – including underwear!
Galvin Green says its SkinTight underwear (£24) has been designed expressly for golfers to provide 'a second skin to maintain the body's bacteria at a natural level, eliminating odour and providing incredible comfort, a soft touch and high performance.'
Make what you will of that! No more awkward adjustment of clothing, unfortunate wet patches or embarrassing sounds and smells, then?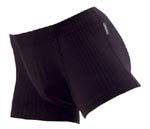 Galvin Green Skin Tight underwear
Also in the range, modelled by Ryder Cup player Joakim Haeggman, is the ultra-lightweight Gore-TEX Stay Paclite rain jacket, half the weight of conventional Gore-TEX, an engineered to fold neatly and to be windproof and water tight while releasing excess heat and moisture. There's also a windstopper and Insula pullover.
Meanwhile sales of Galvin Green Coolmax fashion golf shirts have apparently more than doubled as the Swedes introduce two new short-sleeve styles – James and Jonny.
The James shirt (£59) is available in either deep blue or black with white piping, while the Johnny (£69) comes in either deep red or blue with a distinctive white band across the shoulders and down the arm.
For your nearest stockist call 01932 336 889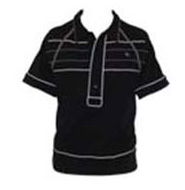 The TSeeko shirts
Birmingham-based
Tseeko
is joining the golf fashion battle by launching 'a new generation' of retro-style slim-fitting polo shirts.
Their range will also include loose fitting trousers with traditional check and cotton herringbone patterns and contrast stitching detail.
For nearest stockist call 0121 212 1351 or visit www.tseeko.com.