Robo Cup spits the ball right back at you!
How many hours have you spent on the practice putting green perfecting your stroke then intermittently having to walk forward and reach down to retrieve balls from the cup? Wouldn't it be great if, like the pros, you had a caddie crouching down returning both the hits and the misses so you don't break your rhythm?
A new device launched at the world's biggest golf trade show - in Orlando, Florida - now enables golfers to do just that. Hole a putt and it pops right back at you; miss one and a Caddy Cord allows you to gather gather those up, too.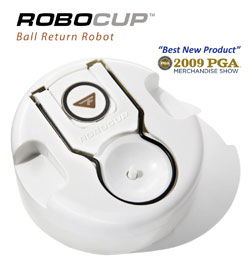 The spring-operated Robo Cup




Yes! Golf UK - makers of the successful range of C-Groove putters - has secured exclusive UK distribution of the Robo Cup, a brilliant device that sits in a practice hole and spits the ball back at you after every successful putt.

No more pacing to and fro, no more re-setting your alignment position but every opportunity to retain muscle memory, your focus and your stroke consistency.  

The spring-operated RoboCup, sits in the cup just below the surface and as soon as the ball drops it's returned to your feet. 

"This little return device is a revolution," says Yes! Golf UK boss Peter Allison. "You putt, you watch the ball drop, wait, recompose yourself and as the ball comes back, you have the unprecedented luxury of being able to repeat the stroke over and over again without moving. It's just so clever and effective."

Included in the Robo Cup pack is the Caddy Cord a simple gadget that ensures missed putts can be gathered up, too. 

The Robo Cup was named "Best New Product" on its debut in at the PGA Merchandise Show in January. Price is £39.99 available exclusively from www.yesgolf.co.uk .