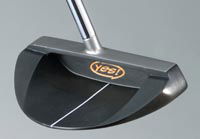 The centre-shafted Hanna
A putter called Hanna, is the latest model to be added to the burgeoning
Yes! Golf
brand. The centre-shafted mallet is face balanced and centre shafted mallet with a toe-heel weight distribution designed to stabilise the head at impact.
It features, the distinctive C-Groove technology developed by putting guru Harold Swash and a single sight line for alignment. It's currently only available in a right-handed version in the UK, but has several shaft length options between 32 and 37 inches.
Says the company's Peter Allison: "When the Hanna putter addresses the ball it naturally puts your hands forward of the ball and once there you've got a lot more chance of putting a superior top spin on the roll. If hands are behind the ball you're more likely to try to put loft on the putt."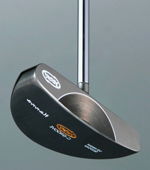 Hanna's C-Groove technology
Over 150 tour pros using Yes! putters have recorded 17 wins this year including Laurie Davies, Jeong Jang and Christina Kim. The 2005 US Amateur Champion Edoardo Molinari has also signed to play the putter after turning pro. Having tested prototypes, several players have put the Hanna model in their bag.
Recommended price is £119.
*Tell us about the putter in your bag - as well as the irons, driver, fairway metals and wedges. We want to know what balls you use and the shoes and waterproofs you wear, too. Submit and Golfmagic user review and you could win one of the great prizes we give away every month. Golfmagic has over 3,000 items of equipment reviewed within its system, many of which golfers use to consider their purchases. Most, too, can be bought from our shopping partners, which are listed on the left-hand side of every page.