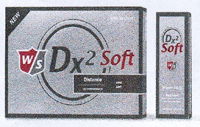 Wilson Staff's latest Dx2 Soft ball
The two most important factors for club golfers using modern equipment are feel and distance. While we like the control a ball will give us, its forgiveness around the green and explosive length off the tee are key to our enjoyment.
With this in mind, Wilson Staff set about trying to produce a ball delivering the best of both worlds and now claim to have come up with the answer – the new Dx2Soft. It's a two-piece Dx2 with a more forgiving cover and a low 50 compression.
In tests compared to other mid-range priced balls, WilsonStaff claims the Dx2 Soft proved more than 30 compression points softer than the Titleist NXT and ahead of eight other leading distance balls, while maintaining its distance figures.
"The Dx2 Soft offers golfers a new choice of ball – distance with the super-soft feel of a performance ball," says Doug Wright, business director of Wilson Staff Golf in Europe. "It's the perfect combination and creates a new category in the ball market."
Wilson Staff says it has made the Nano-Tech core of the ball 22% softer than the original Dx2 without sacrificing resilience and durability and created a dimple pattern shallower than standard to promote a higher launch trajectory and more stability.
The new Dx2 Soft will join the existing Px2 (Performance), Tx4 (Tour) and Lx2 (Ladies) ball in the Wilson Staff range in the New Year and will have a recommended retail price of £4.99 for a three-ball sleeve.
*Tell us about the balls you use - as well as the clubs in your bag and the shoes and waterproofs you wear. Submit a user review and you could win one of the prizes we give away every month.
Golfmagic has over 3,000 items of equipment reviewed within its system, many of which golfers use to consider their purchases. Most, too, can be bought from our shopping partners, which are listed on the left-hand side of every page.