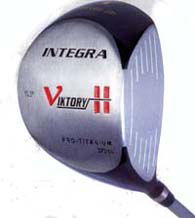 Integra's latest.
The guys who built the monster Integra Super Forged 450 Bti driver have introduced a new scaled down version at an affordable price.
Integra Golf UK even offers your money back if the Viktory II doesn't strike the ball longer and straighter than your current driver.
The Viktory II, named after Viktor Johansson who won the ReMax Long Drive Championship two years ago with a strike of 422 yards using an Integra Forged Titanium driver, has been re-styled with 'a 370cc head, thinner hot face and wider sweet spot.'
Okay it will be illegal by 2008 but isn't that the case with most of today's modern drivers from the leading manufacturers?
The benefit with the Integra, say the Chesterfield-based distributors, is that the cost is just £159, including delivery.
"The Viktory II is the longest, straightest, most forgiving driver we have ever produced," says Integra Golf UK's Vinny Ball,. "We are so confident in its performance, we offer customers their money back if not 100 per-cent satisfied.
"We think 'good value for money' has been overlooked in the world of golf club retail. It's insulting to the golfer to be charged up to £450 for the latest offering only to see it on sale for £150 in the golf discount superstores six months later.
"By keeping our overheads down and margins low, we can reflect our beliefs in our pricing structure and give the best technology for the best price."
Integra is also offering a range of three Viktory II fairway metalwoods (3-,5- and 7-wood) for a total £250 (or £99 each or £180 for two, including delivery).
You can also buy a trial Integra R1 7-iron for £19.99 – refundable if you purchase the full set of nine irons (£199 with steel shafts or £249 with UST graphite).
*If you have used Integra clubs, tell us about them in 'user reviews' – it could win you a sleeve of Titleist golf balls.