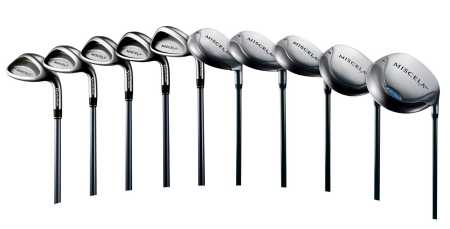 How appropriate that on the first day of the women's game's third major of the year – the Weetabix British women's Open at Royal Lytham - TaylorMade introduces a revolutionary set of clubs aimed at women golfers.
Some might see the irony (excuse the pun!) of what the Basingstoke-based company regard as an innovation in golf equipment – a 10-club set of five Miscela irons and five metalwoods.
Apparently in Italian, Miscela means 'blend' or 'mixture' – so TM has cooked up a bagful that includes driver, 3-wood, three mid-woods (4- to 6-) and five irons (7- to 9-iron, pitching wedge and sand iron).
TaylorMade reckons it has addressed and achieved the objective of make every club easy to get airborne and create a set that provides the women golfers with significant differences in distances for each club in the bag.
Engineers and designers were given a brief to ensure that each club has a built-in low and deep centre of gravity, which, combined with a super lightweight graphite shaft gets the ball in the air sooner.
Many women golfers are quickly put off the game because they lack the clubhead speed to generate a high launch angle to their shots. And because of lack of carry and distance their confidence is effected.
The makers say they have also eliminated long irons, in favour of more forgiving 'mid-woods' with larger head and broad sole.
The design of the Miscela mid-wood is influenced by TaylorMade's Rescue Mid, which has proved popular both on Tour and with handicap male golfers.
However, the mid-wood features more offset than its male counterpart making it easier to hit straight, says TM. It's engineered to produce a high launch angle and high spin-rate, helping the women golfers to get the ball in the air sooner and keep it there for longer-carry shots that stop quickly on the green. They're also reckoned to be more forgiving when mis-hit.
Distinctive differences in distance from club-to-club was achieved by carefully co-ordinating the length, loft and design dynamics of each consecutive club with its neighbour throughout the set.
"A common complaint among women golfers is that they don't see much of a distance disparity between their clubs," says TaylorMade's Sean Toulon. "For many women, the difference between how far they hit, say, a 5-iron and 6-iron is only a few yards. We set about solving that problem. Now every club is valuable and gets used frequently."
Miscela clubs will be available from late August in two different 10 and seven-club sets. The 10-club set will include a driver, 3-wood, 4-, 5- & 6- mid-wood, and a five irons including PW and SW. Recommended price will be £749.
The 7-club set features 5- & 6- mid-woods, 7- to 9-iron and two wedges. Price is set at £479. A Miscela bag will cost £129.