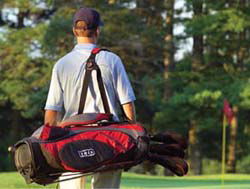 Using the Izzo single strap
With the winter months fast-approaching we're more likely to be carrying lightweight bags than driving or steering electric trolleys around the courses.
For many of us that means the bag strap is back as we tote our clubs around the course. The dual strap has tended to be the most popular and a standard fitting to help the bag sit evenly balanced across the shoulders. But personally I've never been comfortable with this arrangement, preferring the single strap over the right or left shoulder, favoured by most traditional caddies on Tour.
However, Izzo - the Manchester-based distributors - are now experimenting with the OneUp Dual strap – designed for those that prefer a single strap option.
"What most walking golfers don't realise is that they carry their bags using one strap about 50 per-cent of the time – for the few extra shots around the green or the short walks from green to tee," says UK sales manager Gary Norcott. "Unfortunately, traditional dual straps are unbalanced and uncomfortable when using just one strap.
"The OneUp design delivers balance whether with two straps or one which makes carrying golf clubs easier than ever before."
Three adjustment points help match strap position to torso type or weight distribution, so the bag rests comfortably in the small of the back.
The Izzo OneUp Dual strap comes as standard on the Izzo Spirit II stand bag (£79.99) and next year will be more widely available.