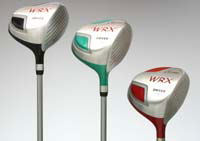 Jaxx junior woods
Jaxx Golf is fast emerging as a major player in the UK junior equipment market and underlining its claim to hold 25 per-cent, has introduced clubs for a range of children aged between five and 14.
All the junior clubs it distributes from its Manchester base are built with a three-degree flat lie at address to suit younger golfers and can be bought as box sets or as individual clubs.
Oversize heads make the clubs easy to hit, and a low centre of gravity helps get the ball airborne. Woods and irons have been fitted with lightweight graphite shafts and a soft velvet junior grips.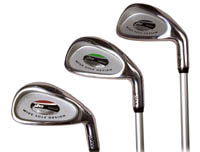 Jaxx junior irons




The WRX junior driver (£12), available for various age groups, has proved especially popular, while standard junior putter is fitted with a lightweight graphite shaft for ease of use.

Newly available is a four-ball mallet-style putter with milled polymer insert, a junior rescue club, stand bag (£25), trolley (£19) and waterproof suit (£34). Irons cost from £10 each and a box set (four irons, two woods, a putter and standbag) from £39.

"We take junior golf very seriously," said Jaxx Golf's Phil Aitken. "We have a special fitting centre for children at our headquarters in Manchester and all the clubs are made with the appropriate head and swing weighting for children. They are not toys."

"We want children to enjoy the game and for parents to be assured that they are getting great value for money, as well as quality clubs."

*Tell us about the clubs in your bag - as well as the balls, shoes, waterproofs – by submitting a user review and for ther chance to win a prize every month.

Golfmagic has over 3,000 items of equipment reviewed within its system, many of which golfers use to consider their purchases. Most, too, can be bought from our shopping partners, which are listed on the left-hand side of every page.

And tell us on the forum... what's your opinion of clubs made for kids. Are they good value or will potential juniors be better served by cutting down your old ones?