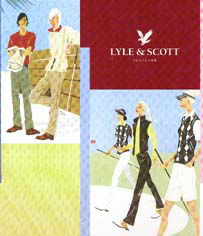 Lyle and Scott - colourful.
In the face of stiff and growing competition from other leading brands, Scottish-based clothing companies Lyle and Scott and Sunderland of Scotland are to combine their considerable forces to form a major threat on the apparel market.
The announcement of the formation of a 'strategic alliance' follows the recent revelation of their respective clothing ranges – stylish and colourful fashion from Hawick-based Lyle & Scott and a GT and Heritage Range of young, all-weather clothing from Sunderland which has its headquarters in Glasgow.
The move also comes hot on the heels of the re-emergence of Pringle, Ashworth's higher profile and Nike's allegiance with Tiger Woods.
Robert Kimpton, Chief Executive of Lyle and Scott said: "This strategic partnership represents an ideal marriage for both companies. Lyle and Scott is acknowledged as one of the leading golf lifestyle clothing brands and Sunderland of Scotland is renowned for its expertise in technical rainwear and windwear.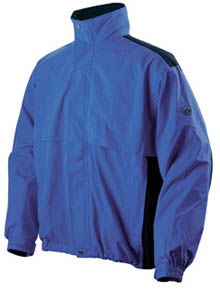 Sunderland's GT Tour jacket.
"These two great Scottish brands complement one another perfectly and we're delighted to be working with Warren Sunderland and the rest of his team".
Mr Sunderland, his company's chairman, responded: "This partnership opens up an exciting new chapter in the development of our business. The combination strengthens the proposition we can offer our customers and provides many new and exciting opportunities for both brands, not least in the growth of our business worldwide".
L & S which designs, manufactures and distributes golf clothing for men and women, is also the European Licensee for Bobby Jones clothing while Sunderland is the official supplier to the European Ryder Cup Team and has a North American subsidiary based in Los Angeles.